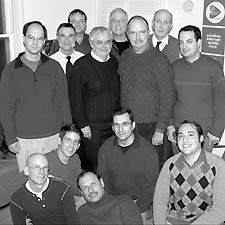 Boys and Books members at a recent gathering
Mission: To read and discuss literature with a gay theme.
Founded: 1999
Number of Members: 100Â 
How to Join: Just show up to one of the meetings or join the e-mail list on the web site. There are no fees.
Background: Greg Farber, facilitator of Boys and Books, says it is the interaction among the group that keeps him coming back week after week. "I'm always interested in what others have to say. The conversations are fascinating." Farber says some of the most memorable discussions are when the authors come to talk about their books. "It is always interesting to hear them talk about — and sometimes defend — their work."
Contact: Email boysnbooksdc@aol.com  or visit hometown.aol.com/boysnbooksdc/myhomepage/ for  more info.
Next Event: The group will meet on Tuesday the 17th at 7:30 p.m. in Sparky's Café, 1720 14th Street NW, to discuss the play Gross Indecency by Moises Kaufman.