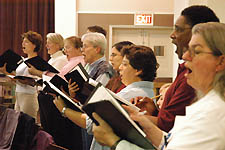 Members of the LGCW in rehearsal.
(Photo by Todd Franson)
"One of our guiding principles is that every voice matters. And that's very true in a small chorus. A good voice can be heard just as much as a poor quality voice. "
Paul Heins is talking about the challenges of directing the Lesbian & Gay Chorus of Washington, a non-audition chorus.
"We do accept everybody, and there are occasionally a few people who we can hear are not contributing positively to the sound. In that sort of situation, we try to work with them individually and encourage voice lessons. If they're very interested in being in the group, then we're interested in helping them create a positive sound for the group.
"But, " he continues, "that sort of situation happens very rarely. Usually people who join the chorus have some sort of ability to carry a tune. "
The chorus, which will celebrate its 20th Anniversary with a concert this Saturday and Sunday, February 7th and 8th, currently has twenty-eight members. "We're a small chorus, " says Heins, who accepted the music director post last April. They may be small, but their vocal power is quite impressive — as anyone who has heard the LGCW perform, either in concert or at the Arts Stage at Capital Pride, can attest.
This weekend's concert, says Heins "is a retrospective of music and decisions and performances that have made up our twenty year history.
"We've selected musical highlights from previous performances. We've also chosen new music that reflects who we are currently as an ensemble, including the second performance of choral selections from 'Quilt Panels,' the piece we co-commissioned with DC's Different Drummers from [composer] Rob Maggio.
"This set of concerts, " he concludes, "is a chance for us to remember where we came from, what we have accomplished, and who we are today. The music we have programmed celebrates our identities, reflects on our role in the fight for social justice, and remembers and honors the people who have made us who we are as individuals and as a chorus. "
Open house auditions for the chorus are held twice a year — there's one coming up on Tuesday, February 17 — and Heins encourages any GLBT person with an interest in singing to stop by to see if LGCW is a good fit.
"I think most people find the folks in LGCW very nice, very supportive and very smart. "
Formally trained in piano and flute, the 31-year-old Heins, a baritone, gets enormous satisfaction from his role as LGCW's leader.
"It's a real pleasure, in addition to being a real privilege to work with these folks. I've learned a lot. I've grown as a musician. And I think I've grown just as a member of the LGBT community. That, I think, is one of the greatest joys of all. "
The LGCW 20th Anniversary Concerts will take place this Saturday, Feb. 7 at 8 p.m. and Sunday, Feb. 8th at 4 p.m., at the Capitol Hill Presbyterian Church, 4th Street and Independence Ave. SE (near Eastern Market Metro). Tickets are $20 and are available at www.lgcw.org, by calling 202-546-1549, or at Lambda Rising Bookstore on Connecticut Avenue, at the Capitol Hill Arts Workshop, TICKETPlace, or at the door.