There are great haircuts. There are terrible haircuts. And then there are those haircuts that are so profoundly mediocre that they go virtually unnoticed. Those are the most disappointing haircuts of all.
The same can be said for movies, especially movies about haircuts. For instance, the 2002 release Barbershop was akin to a great haircut. It was a character-rich story about the vibrant, neighborhood-nourishing life a small barbershop brought to a street on Chicago's South Side. Though many individual tales were interwoven into its narrative, its centerpiece was the journey of the shop's owner Calvin Palmer (Ice Cube), a consummate dreamer who came to terms with the clip 'n snip legacy left to him by his father. It was a warm, joyous film, filled-out by a cast that included a scene-stealing Cedric the Entertainer as the shop's outspoken Eddie, Sean Patrick Thomas as the ambitious, well-educated Jimmy, rap-star Eve as the sassy, combative Terri, and Michael Ealy as Ricky, a young man fresh out of prison, looking for a new start in life.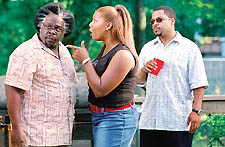 While Barbershop 2: Back in Business is an extension of the first film — with all the principals back in their chairs, going about their daily chores of buzzing heads while engaging in a perpetual, spirited discourse on life.
And yet, for all its well-intentioned efforts, Barbershop 2 feels fractured, incomplete. Watching it, you realize what a perfect television sitcom the Barbershop franchise would make — an African American Cheers with clippers. But precious little imagination or effort has gone into creating the new film. There seems simply no reason for it to exist other than to cash in on the first film's craze (which it did last weekend — raking in over $25 million at the box office).
The main storyline deals with the arrival of Nappy Cutz — a high-end corporate franchise complete with German-manufactured titanium clippers, plasma-screen televisions, and an indoor basketball court — across the street from Calvin's modest shop.
"This is not a competition, " Quentin Leroux, the chain's franchisee and a local land developer, informs Calvin. "This is a rout. You'll be out of business two weeks after we open. "
Calvin must search his soul once again. Does he want to sell his prized business to Quentin's land development company — or stick it out and let the neighborhood choose between his modest, warmly atmospheric shop or the huge, flashy Cutz? When climax time comes, the movie fails to deliver anything as satisfying as the first film's showdown with Keith David's memorably evil loan shark. The neighborhood makes its choice. The credits roll. And Hollywood agents get to work lining up the cast availability for Barbershop 3: Fade Out.
Screenwriter Don D. Scott (working solo without his original co-writer Mark Brown) strives to add substance to Barbershop 2 by including on a flashback-driven sub-narrative depicting Eddie's long-standing history with the shop (which we learn, among other things, was the only business on its block to survive the '68 riots). While the addition of history deepens the film somewhat, it's not enough to make up for the undernourished script.
Barbershop 2:
Back in Business
Starring
Ice Cube,
Eve, and
Cedric the Entertainer
Rated PG-13
98 Minutes
Area theatres


There are a few other negligible subplots in Barbershop 2, including a romantic involvement between Ricky and Terri and another involving the women's salon next door, owned by Gina (Queen Latifah). Gina has a spicy encounter with Eddie in a child's wading pool, but it's a splash-on role, and shameless cross-promotional warm-up for the forthcoming Beauty Shop, a spin-off to be released later this year.
Despite its problems, Barbershop 2 still plays out with a heartfelt warmth, and the cast, who have less to work with this time around, remains committed to the project, giving their all to every last moment. Crisp and crackling Eve, handsome, blue-eyed Ealy, and the gloriously over-the-top Cedric remain standouts in a finely-polished ensemble. Still, Barbershop 2, like most sequels, can't begin to capture the spirit, magic and charm of its predecessor. You could almost say it's a few cuts below.