"I am an all powerful Amazon warrior, not just some sniveling girl, " declares Ani DiFranco on Educated Guess. With this intimate and intense disc, DiFranco proves her power as she strikes out on her own for the first time in more than a decade. Not only did DiFranco write all the songs, play all the instruments and provide lead and backing vocals, she also recorded, produced and mixed the entire album.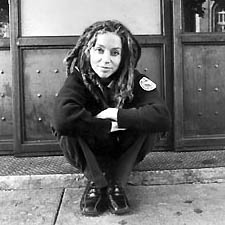 Heralded as DiFranco's return to her roots, Educated Guess is more a balancing act in which she honors her past while moving forward musically. If you long for the Ani DiFranco of days gone by, the stripped-down approach of this collection of fourteen songs and poems is as close as you're going to get without putting on a copy of Out of Range or Imperfectly. Like Joni Mitchell before her, DiFranco has discovered jazz and there's no turning back. The powerful, percussive folk punk of her early recordings has been replaced by loose, languid guitar strumming and finger picking informed by elastic jazz phrasing. Gone too are the horn sections, sax solos and elaborate arrangements that have adorned her recent recordings. This is Ani in the raw.
Recorded on vintage 8-track reel-to-reel in New Orleans and Buffalo, Educated Guess features sparse and open arrangements, allowing the songs to breathe and the sharp, biting and insightful lyrics to shine. Alliterative spoken word and song-poems are set to the sound of jazz and funk-tinged folk. With complex time signatures, dissonant chord changes and echoing, otherworldly background vocals, this can be challenging to those uninitiated in all things Ani. Her guitar playing, however, has never been more succinct or inspired.
Educated Guess
Righteous Babe Records
$16.98

As always, love and politics serve as DiFranco's primary muses. Her newfound solo status in the studio and on stage follows closely on the heels of a split with sound engineer Andrew Gilchrist, her husband of six years. As a result, it is a difficult, if not impossible, task to separate the introspective lyrics from the artist. "The little folksinger, " as she is known to her faithful following, presents a bittersweet snapshot of her life as she comes to terms with the failed relationship and reestablishes her sense of self-identity. Tracks such as "Origami, " "Swim, " "Bodily " and "Bubble " tackle these topics with some of DiFranco's bleakest, most emotional lyrics to date. Baring her soul on "Rain Check, " she frankly acknowledges that her "heart is just a muscle, and simply put, it's sore. "
The civil disobedience of the epic "Grand Canyon, " a spoken word poem addressing patriotism, race relations and feminism, resonates in the postmodern world of the Patriot Act. "I love my country/by which I mean/I am indebted joyfully/to all the people throughout its history/who have fought the government to make right, " she proclaims. She also confronts greed and consumerism in the passionate "Animal. " This righteous babe is still speaking her mind, albeit a bit more quietly. 
If you're unfamiliar with DiFranco's prolific body of work, Educated Guess isn't the place to start your exploration (may I suggest instead the phenomenal live double disc set Living In Clip or the fan favorite Not A Pretty Girl?). While not the most accessible of her albums, Guess is ultimately one of the most rewarding upon repeated listening. This is Ani DiFranco as she should be — minimal, political, deeply personal — the true embodiment of the independent woman.