Melissa Etheridge sings about her rapturous love for her new wife on Lucky, and on the album's best track exposes characteristic vulnerability as she asks of her partner, "Will you still love me anyway? "
It's a question she's also implicitly posing to her rapturous fans. Lucky, her eighth album, is unquestionably her lightest in lyrical sentiment, in a 15-year career marked by needing, bleeding poetics. Worse, it's also her lightest in musical quality. Seemingly out to prove that she can still scorch, too often she's whipped up melodies that seem overbaked in the kiln.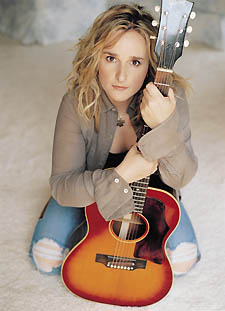 Melissa Etheridge
(Photo by Cynthia Daniel)
Etheridge is the rock, in all senses, among the few openly gay musicians we have, and certainly the most proudly visible. She might not have come out on record until 1993's brilliant breakthrough, Yes I Am, but to those who knew the code to her closet, she was essentially out on her self-titled 1988 debut. She skillfully avoided referring to gender in describing her "lover " or her "baby. " Her bloodstained voice cried out aching lyrics that could be construed as gay-rights yearnings. And she posed for a fierce album cover of bulging fists, mannish leatherwear and untended, stringy hair.
Etheridge has succeeded over the years by being consistent, producing music that doesn't chase fads to score on the Billboard charts. Her lyrics have juggled mundane thought and profound reasoning in a thoroughly accessible way. That, coupled with their intensely personal nature, is why people from so many walks of life so avidly adore Etheridge and make her live performances as interactive as a one-artist stage show can be. Few of her contemporaries match her engaging stage presence.
But she hasn't worked to update her sound in any real way, and today's lyrics, while more upbeat, fall back on the same tired metaphors, clichés and structures of yesteryear's. Listening around, you can't help but note that she's never matched the exquisite "Like The Way I Do " from her debut.
That's not to say Lucky, like the albums that immediately preceded it, doesn't seduce you and affect you at certain points. What's truly remarkable about Etheridge is that even at her most derivative, she knows how to keep the song just this side of tolerable. Bland, overwrought, mawkish songs like "Secret Agent " or "Giant " fade into the background. There's actually only one thoroughly unsatisfying song — unfortunately, it's the album's titular song and kick off. "Lucky " grates with its scaling electric guitar and an ill-conceived generic pop-rock melody that sounds like a reject from Bon Jovi's last album.
Lucky features the first single that Etheridge has ever included on an album she didn't write herself, "Breathe. " It's actually a great song, if not for the thudding chorus "I'm alright, I'm alright, it only hurts when I breathe. " Etheridge's label recommended the song to her only after they had effectively rejected her first two tries at new material. It's hard to know what to make of this, because it has apparently never happened to Etheridge before, but it doesn't inspire confidence. It surely forced Etheridge to work harder to produce a qualified good album. Perhaps a bit more pressure would have led to a great one.