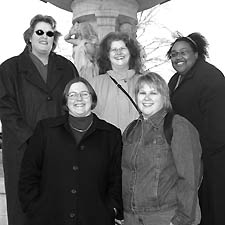 Members of the National Capitol
Area Lesbians book club
Mission: NCAL offers a safe place for lesbians to meet, talk, collaborate, discuss literature and the arts, and enjoy each other's company.
Founded: 2001
Number of Members: 33
How To Join: Visit the web site at www.ncalesbians.org for a registration link. Membership is free.
Background: "I was basically a later-in-life lesbian," says NCAL president Karen Main. She joined NCAL as part of her search for other lesbians she could talk with. An avid reader and writer, Main found solace in having a group of women who can express different views on literature. More than that, she says, "It was finding others and realizing you're not alone."
Contact: Visit the web site at www.ncalesbians.org or e-mail karen@ncalesbians.org for more info.
Next Event: There will be a book discussion Sunday, March 14 at 2 p.m. Special guest Sabra Morgan will talk about her book Great Mother Mountine. Location is to be announced. Visit the website for more information.