Baby, it's cold outside. And inside. Especially in Pine City, Minnesota, the fictional town where playwright Craig Wright loves to frame his eccentric, involved stories about human drama and irony locked away in icy solitude. Wright's latest installment of Pine City's mythical misadventures comes crashing to life in Melissa Arctic, a contemporary update of Shakespeare's The Winter's Tale.
Those who revere the Bard's classic needn't fret: Wright's new vision offers unexpected clarity to the fundamental themes of redemption and rebirth often over-polished or ornately examined in Tale. Wright transports the story to 1970, and his Leontes — rechristened Lenny — is super-suspicious and über-paranoid, a poster child for the post-Vietnam American husband. Lenny and Mina Mattson open their home to childhood friend Paul, and while Mina and Paul coo over the newborn Melissa, Lenny can't seem to control his outrageous fits of jealous passion and anger. He consults with his barber shop employee Carl, who warns Paul of impending danger and urges him to leave Pine City. Mina is attended by her dear friend Cindy (the artist's modernization of the heroic Paulina), and Melissa is banished from the presence of her father and "his " city.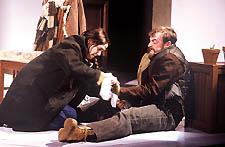 Wright capitalizes on his ability to be both touching and witty by spinning his own visceral version of Shakespeare's plot. As the rest of the play carefully unfurls, Wright preserves most of the original details while maintaining his own signature style. For instance, he replaces an elder Father Time with an angelic child, who opens the evening with an ethereal musical verse that begs, "Can everything be still? Can everything be perfectly still? " With his wonderful writing and inspired interpretations, Wright remains one of the most consistently first-rate playwrights of his genre.
Director Aaron Posner leads a perfect ensemble of eleven. The most exciting discovery in the cast is Kiah Victoria, who, as Time, lends a magical presence with a spirited concoction of effortless vocalizing and angelic performance. She's a miniature superstar waiting for her wings to take flight. Ian Merrill Peakes and Holly Twyford, as Leonard and Mina, offer solid lead performances, with Peakes demonstrating extraordinary emotional capability and conviction.
The production also takes advantage of the talents of deaf actor Kyle Thomas in the role of Carl, who uses both sign language and auditory interaction. The result is an eloquent performance from Thomas and a unique character that remains truly memorable.
In an era of cynicism and ceaseless suspicion, it's good to know that the lessons demonstrated in Shakespeare's wintry fable are just as powerful and relevant to contemporary audiences as they were in his lifetime. If every update of Shakespeare's plays were as affecting and effervescent as Wright's Melissa Arctic, what a wonderful world this would be.
---
While temperatures may be holding steady around the freezing mark, nothing about Charles L. Mee's Wintertime is frozen solid. Mee's great big sprawling diatribe on all-things-love is both highly theatrical and genuinely funny, and features an enormously entertaining cast who revel in all kinds of kooky fun. Sadly, however, the never-ending story attempts to accomplish a bit too much, melting into one big slushy heap.
The premise is simple: Jonathan (Eric Sutton) has decided to propose to girlfriend Ariel (Vanessa Vaughn) at his parents' winter home. When they arrive, they find that Jonathan's parents have already made it there, along with their respective lovers. Let the games begin. Mee's deftly witty dialogue reveals secrets, scandals, and one bizarre memorial service that keeps everyone guessing who deserves to walk away with love.
As each of Mee's characters engage in the various postures of being in love, out of love, and down with love, he forces them to reconcile their ideas about fidelity, faith and frivolity, all while commenting on the ridiculous, ceremonious ways that lovers are often demonstrative about relationships without fully committing themselves to one. It's a heavy-handed, studious script with a lot to say, but unfortunately Mee covers so much ground that he ends up muddling some of his brilliant, macrocosmic ideas.
With its gorgeous, picturesque set from James Kronzer, filled with life-size white trees and lots of glistening snow, and interesting, colorful costumes by Ilona Somogyi, Wintertime is a technical dream. But it's Martin Desjardins' empowering score of soaring operatic notes and classics such as "O mio babino caro " and "L'Heure Exquise " that adds a real touch of elegance.
Director Lou Jacob allows most of the play's provocative, farcical scenes to carry on just a few minutes too long, creating an almost uncomfortable air despite golden efforts from his cast, which includes an almost unrecognizable Jerry Whiddon, a brave standout among a crew of exceptional actors, serving up a saucy French accent with his near-naked body.
Eric Sutton lends a brilliant blend of subtle realism and absurd anger to his sulking Jonathan, and Norma Fire is smoldering as Hilda, a lesbian neighbor whose "no bones about it " attitude is delightfully dry as she offers an assuring jest to her perpetually cranky partner: "You live in a snit, and you'll die in a huff! "