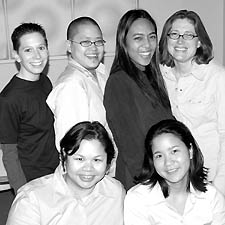 Members of Asian Pacific Islander
Queer Sisters (APIQS)
Mission: An organization for Asian American and Pacific Islander lesbian, bisexual, transgender and questioning women with a focus on education, community, and sisterhood.
Founded: Formally known as D.C. Asian Lesbians. Reorganized as APIQS in 1998.
Number of Members: Approximately 90.
How to Join: Visit the group's web site at www.apiqsdc.org to join the APIQS' listserv. There are no membership fees.
Background: Singer and songwriter Avelynn Mitra, who serves as chair of APIQS, says she was performing in Canada when she first learned about the group. Mitra told her audience that there were no queer Asian women in D.C. — then someone yelled out, "That's not true." They talked afterwards and when she returned to D.C. she went to her first APIQS event. Two years later Mitra says the group is part of her makeup. "The group is a source of support for queer Asians," she says.
Contact: Visit the website at www.apiqsdc.org/ or e-mail info@apiqsdc.org.
Next Event: Check the website or join the listserv for the most recent updates.