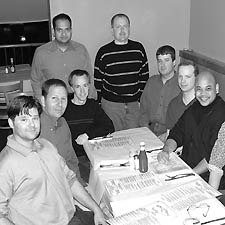 D.C. Gay Men for Dinner
at a recent outing
Mission: Providing an alternative to the bar scene where single men can meet.
Founded: 2000
Members: Approximately 240
How to Join: Send an e-mail to dcgm4dresponse@yahoo.com in order to join. The group asks for a $1 contribution for each dinner.
Background: After ending a long-term relationship, Ken Cole says he was looking for a low-key way to meet people out side the bar scene. Cole, coordinator for DCGMD, says the group offered just that: "It was a comfortable way to meet." A couple of years later, however, Cole found that being part of the group became less about him meeting people and more about building something positive for the lesbian and gay community. "If you're not plugged into a sports team or other group you can feel very isolated," he says. "This is a vehicle to bring people together."
Contact: E-mail dcgm4dresponse@yahoo.com for more info.
Next Event: To be announced.