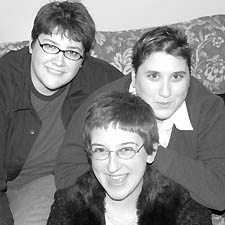 Members of D.C. Lesbian Avengers
Mission: A queer, direct action, activist group.
Founded: 2000
Number of Members: Approximately 40.
How to Join: Join by coming to one of the weekly meetings or visit the web site.
Background: Jenifer Maroon, coordinator of the D.C. Lesbian Avengers, has been involved with women's rights since college. Today, Maroon says things have changed: "There is a new generation of feminists out there." In order to bridge the gap between generations she says the group must take a slightly different approach to activism. "We are trying to make a point, have fun with it and not be too preachy," Maroon says. "While we deal with some serious issues the solutions can be fun."
Contact: Email jeniferm8@yahoo.com for more information.
Next Event: The group meets every second Wednesday of every month at the Whitman-Walker Lesbian Services Center, 1432 U Street NW. Check the web site for more information.