Gay is funny.
And he'd better be, seeing that he's the host of 14th Street's big gay comedy night.
D.B. Gay is among a burgeoning group of local gay and gay-friendly comics, in more ways than just his surname. "There are a lot of gay comics coming out — and up, " says Gay.
"I was actually kind of amazed, " Glenn Mlaker adds. "I didn't really know that there were local gay comics and that many of them could be so hysterically funny. " Mlaker owns Hamburger Mary's and its upstairs companion Titan Bar, where comedians ply their punch lines every Wednesday night at "Queer Club for the Straight Crowd, " and the best of the best return for the monthly Saturday Showcase. Gay emcees both events.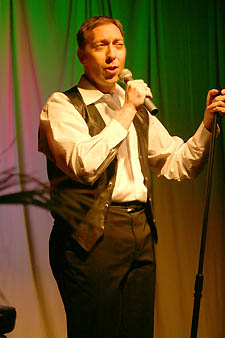 Funny Ha Ha: D.B. Gay
(Photo by Henry Linser )
Mlaker estimates that, on average, the Wednesday night comedy crowd is three-quarters gay. Says Gay: "It's not totally gay, it's not totally straight. And it's definitely not totally sane. "
It's a haven, naturally, for gay comics to work out material among their kin. But Gay also sees a value in the night for straight men and women, who actually make up the majority of the comics. For straight women, it's a place to "pretty much cut loose. They don't have to protect themselves, fend off the flying dicks. "
And for straight male stand-ups, the evening can be a good learning ground. "You know gay men, we're slightly judgmental, " Gay explains. "If you can make us laugh, then you've got a pretty good chance that you can make anybody on the planet laugh. "
P.J. Studevent, an occasional Titan comedian, praises the club for doing "an amazing job of creating a great atmosphere for all the comics. " And as long as the audience is there, the laughs will be waiting. "If people come in for it, " says Mlaker, "we'll continue to do it. "
Queer Club for the Straight Crowd kicks off every Wednesday night after 9 pm, and the Saturday Showcase is held every second Saturday of the month, including this Saturday, March 13, at Titan, 1337 14th Street NW. For more information, call Titan at 202-232-7010.