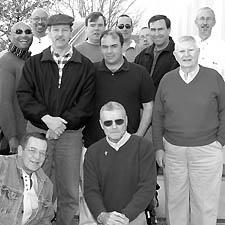 Members of the local Straight Eights
chapter of the Lambda Car Club
Mission: Enjoying, appreciating and learning about classic and special-interest autos.
Members: Approximately 130.
How to Join: Visit the web site at www.lambdacarclub.net to receive an application. Dues are $37.50 a year for an individual or $47.50 for a couple.
Background: "I went to meeting in 1999 and have been involved ever since," says Chris Martin, president of the Straight Eights, the local chapter of the national LCC. Martin, an avid car enthusiast since his teens, says the combination of great people and great cars has kept him involved with the group over the years. And there are some practical benefits in addition to finding friends with a common interest: "You can also network to find mechanics and parts."
Contact: Call 301-765-0399 or e-mail strt8s@aol.com.
Next Event: On March 20, the group will visit the National Air and Space Museum's Steven F. Udvar-Hazy Center, 14390 Air and Space Museum Parkway, Chantilly, Va. E-mail strt8s@aol.com for more information.