Gavin Newsom has the crowd in the palm of his hand, telling them the story of how San Francisco became the first major city in the nation to issue marriage licenses to gay and lesbian couples.
It's a well-known tale, certain to go down as among the biggest in gay history. The newly-inaugurated mayor of San Francisco is invited to attend President George W. Bush's State of the Union address, where the president begins his call to "defend" marriage from homosexuals. Rightly offended, the mayor puts into motion the machinery of government to ensure what he calls the equal treatment of gays and lesbians under California law.
And then events, as they have a tendency to do, take on a life of their own and thousands of gays and lesbians are lining up to get married, Bill O'Reilly's calling for his arrest, and Gov. Arnold Schwarzenegger is warning of riots.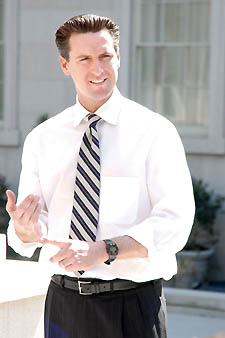 San Francisco Mayor Gavin Newsom
All in all, an exciting first three months for the dynamic young mayor.
In D.C. for a meeting of the U.S. Conference of Mayors, Newsom also spoke to this group of local gays and lesbians to raise funds to help pay off the debt left over from his 2003 mayoral campaign. The 36-year-old may have defeated gay candidates — including the stalwart San Francisco supervisor Tom Ammiano — but he's already earned a spot among gay political heroes.
And while people talk of him in glowingly as a straight ally, he shrugs off the idea that he's become a new gay icon by taking up the fight against the Federal Marriage Amendment.
"I'm just proud to be a conduit," he says, "to be able to do something."
Talking after the fundraiser in the lobby of the Monaco hotel, Newsom says that the San Francisco marriages were more than just a political statement for the thousands who flocked to the city from across the nation.
"The experience for [those couples] was meaningful, and not just symbolic," he says. "And at the end of the day, that's what matters more than anything else."
The marriages in San Francisco went on much longer than Newsom expected — he had anticipated the courts would shut down the proceedings immediately. Recently, a California court did put a halt to the marriages, but its ruling indicated that it may see value in San Francisco's claim that gay marriage is necessitated under the California constitutional requirement for equal rights.
"I think we'll win," says Newsom, laughing that his optimism is "not just youthful exuberance."
Some have worried that events in San Francisco may have contributed to a backlash against gay marriage — Bush claimed that part of his decision to finally support the Federal Marriage Amendment was because of that west coast spectacle. And Rep. Barney Frank recently told the Washington Post, "When you're engaged in a political fight, if you're doing something that really, really, really makes you feel good then it's probably not the best tactic."
"I normally defer to Barney Frank, I have great respect for him," Newsom says, calling the long-time Massachusetts congressman "one of the most capable representatives the House has ever known."
But Newsom thinks his duty as mayor of a city that has been on the "leading edge" of gay and lesbian history for a generation requires him to keep pushing the marriage issue in any way available to him.
"I wasn't elected to sit back and wait for a brighter day," he says. "I was elected to make a difference, and add value to people's lives."
Initially, he worried about the possible backlash, particularly in a contentious presidential election cycle. But as Bush has pushed a constitutional amendment, Newsom sees more advantage for his own Democratic party.
"I think it's backfiring on him. It's united the Democrats and it's divided his own party because of the constitutional questions. They may agree with him on gay marriage, but they don't like messing with the constitution. I think it was a miscalculation."
Newsom himself was married in 2001 in an Irish Catholic wedding that he jokes was "so involved it may still be going on." His wife, Kimberly Guilfoyle Newsom, is a legal analyst and television commentator. She's played her own role in the history of the legal status of gay and lesbian couples, serving as one of the prosecutors in the notorious San Francisco dog-mauling death of Diane Whipple. That case led to a change in California law allowing gays and lesbians to sue for wrongful death of a partner.
He hopes that, in addition to all the legal rights and responsibilities that come with marriage, gay and lesbian couples will soon enjoy the same social validation that he's received for his own relationship.
"That's an intangible that's very real, and it says something about our relationship to our friends and family," he says. "That's a very powerful thing, a very meaningful thing."
While realistic about the possibility that the marriages performed in San Francisco may end up being declared legally invalid, he says those marriages will still carry great significance.
"That certificate is theirs forever. It's the exact same certificate I have and my wife has, no difference. You'll never take that away. You can't. Everybody is guaranteed that moment and that memory from that experience."