"I'm not interested in the idea of retiring. That doesn't attract me at all. "
Dance fans, you can breathe a sigh of relief.
At the age of 84, and after helming a world-renowned modern dance company that has borne his name for fifty years, Merce Cunningham clearly is not going anywhere.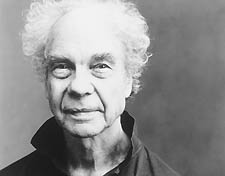 Cunningham photographed in
1997 by Annie Leibovitz
In fact, he's coming here — as his company settles into the Kennedy Center's Eisenhower Theatre for two performances this weekend. On the evening's bill, three essential Cunningham pieces: 1975's "Sounddance, " with music by David Tudor, 1998's "Pond Way, " with décor by Roy Lichtenstein and music by Brian Eno, and 2002's "Fluid Canvas. "
The company elegantly and vibrantly pushes the limit of movement, and Cunningham's choreographic style, inspired in part by Einstein's theory of no fixed parts in space, has long been heralded as one of the most innovative and compelling in the field of modern dance. The choreographer is well-known for his exploratory collaborations — his most famous being with composer John Cage, who served as the troupe's music director until his death in 1992.
"I'm interested in what artists in other fields are doing today, " says Cunningham, on the phone from his New York studio, his soft, deep voice gently underscored by a distant rehearsal piano. "I'm interested in what ideas they have about our contemporary society. So I have tried to connect with people whose ideas are not necessarily the same as mine but have struck me as being part of our contemporary life. " Cunningham embraces technology, as well, and currently uses a computer program called Dance Forms to help create his newer works.
Asked to recount his proudest moment during his company's fifty years, Cunningham pauses.
"I can't think of any in particular. I'm sure there were several moments. But usually if the company's performing, then I watch that performance. If I thought it went well, I say so. And if not, " he says with a knowing laugh, "the next day we have another rehearsal. "
The Merce Cunningham Dance Company performs this Friday, March 26 and Saturday, March 27 at 8 p.m. in the Kennedy Center Eisenhower Theatre. Tickets are $19-$45. Call 202-467-4600.