I can think of no good reason to recommend that you buy a ticket to see the Coen brothers remake of The Ladykillers. Unless, of course, you're feeling charitable.
While it boasts a macabre set of comedic circumstances that unfurl in typical Coen brother fashion, as a moviegoing experience The Ladykillers is exceptionally unexceptional and profoundly mediocre. There's no life to this crime caper comedy, a remake of the 1955 British classing from Ealing Studios that starred a toothsome Alec Guinness, Peter Sellars and Herbert Lom. The original was brilliantly understated. But understatement is not a Coen forte — it's not even in their filmmaking genes. At their best, they are flamboyant, showy moviemakers whose quirky worldview deeply permeates the fabric of their art. Their finest film to date remains Fargo, a thick, sardonic slice of moral complexity set amid the wintry tundra of North Dakota.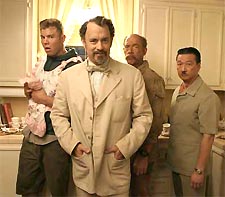 It's disappointing to see the Coens come up empty-handed, as they do with The Ladykillers, but the movie doesn't work on any level other than surface. The story skips along choppily and somewhat haphazardly, as if key scenes were left in a pile on the cutting room floor.
The Coens have always relied on tricks and gimmicks to delight their audience — who can forget the camera that dodged a passed-out drunk in their 1984 debut Blood Simple. But the gimmickry employed in The Ladykillers is beneath the brothers. For instance, a stately portrait of a patriarchal figure whose expression changes depending on the action is a puerile tactic, one better suited to The Haunted Mansion. Its very presence insults the intellectually astute, hip fan base the Coens have been cultivating over the past two decades.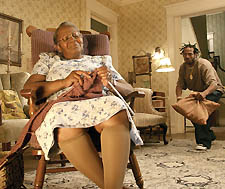 Tom Hanks, wearing a beige Colonel Sanders-influenced  suit and deploying a gummy Southern accent punctuated by a nervous, breathy laugh, plays Professor Goldthwait Higgenson Dorr, a criminal mastermind who assembles a gang that can barely shoot straight, let alone get along. Their scheme: to relieve a Mississippi riverboat casino of its cashflow. To that end, Professor Dorr rents a room in the home of the widowed Marva Munson (Irma P. Hall) and poses with his crew as church musicians. She thinks they're rehearsing in her root cellar when, in reality, they're tunneling to the casino's underground vault.
A devout churchgoer who gives five dollars a month to Bob Jones University, the widow Munson proves to be a formidable adversary, ultimately becoming an obstacle that Dorr decides must be removed.
Unfortunately, the guys are more adept at robbing a casino than they are at killing a little old lady. Which, of course, is the movie's big joke. But when it gets down to dirty work in act three, The Ladykillers turns creakily mechanical, as each murderous man is thwarted. Basically, the proceedings lack originality, the very spark that normally sets a Coen brother bonfire ablaze.
Hanks is handed some beautiful dialogue to recite — Professor Dorr's vocabulary is given to mellifluous excess — but his performance is too low key. Hanks is either bored or not trying very hard, or both.
Hall is engaging as the widow, her performance imbued with emotional weight and substance. But she is used as little more than a prop by the Coens. Marlon Wayans hams it up as a trigger-tempered , street cred member of the gang, resulting in the movie's one genuinely funny performance. His scenes with Hall — who repeatedly disciplines him for using "hippity-hop " language — are inspired.



The Ladykillers
Starring Tom Hanks, Irma P. Hall and Marlon Wayans
Directed by Joel & Ethan Coen
Rated R
104 Minutes
Area theatres


There are some funny moments in The Ladykillers, but they're isolated. The humor feels detached, distant, and nothing congeals in the way it should. The Coens, meanwhile, attempt to do for Gospel music what they did for bluegrass in O Brother, Where Art Thou? but the rousing church choir numbers are barely integrated into the storyline. Basically, they're filler. And filler is the last thing I ever expected to find in a movie by the Coen brothers.