One of the most significant moments in the Shakespearean canon comes at the end of King Henry IV, Part 2 when the newly-crowned Henry V repudiates his surrogate-yet-dissolute father Falstaff. Critics have been divided viewing the act as either hypocritical or justified, but the richly textured, sublime performance of Ted van Griethuysen as Falstaff, however, should remove any questions concerning Shakespeare's intent.
When Henry rejects Falstaff at his coronation, van Griethuysen doesn't react with hurt and pity that so many modern audiences have come to expect. Instead he takes it in stride, almost as if his task of raising a king were now complete. For van Griethuysen's Falstaff to be hurt would indict his entire character. Falstaff is the great ironist of the western canon, he cares not about the worldly concerns of politics. If Henry had accepted him, then he would have failed his purpose.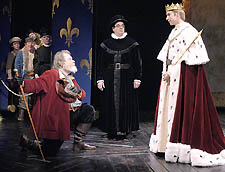 Royal cast-off: van Griethuysen,
Ed Gero and Kelly
(Photo by Richard Termine)
Indeed, Falstaff had bragged to his friends that they would enjoy unprecedented access in the new court because of his close friendship with new the King — Falstaff can't help himself, he is a grand braggart, so when they come face to face, van Griethuysen's reaction expresses the loss of the friendship. Then van Griethuysen steps backward and transcends the moment into an understanding that their relationship was never about being friends, and that it could never last. Van Griethuysen's Falstaff is one for the ages.
Van Griethuysen has been preparing the audience for this throughout the entire Henry IV cycle. His Falstaff was not a larger-than-life raconteur tugging at the audience's emotions. Instead, his performance strips away much of the mythology surrounding the character and presents him in human terms, which Hal can put into perspective in the arc of his royal life.
Without missing a beat, Director Bill Alexander picks up right where King Henry IV, Part 1 left off by continuing his sparse and compelling production. His straightforward staging and minimal set design exterminates many of the weeds that have grown up around these two plays. He gets at Shakespeare's truest intentions by not giving into a modern interpretation. Alexander, in fact, has not romanticized these plays, allowing this 16th century work to speak confidently to 21st century audience. He isn't intimidated by Hal and Falstaff's relationship — remarkable because all too often directors of the Henry IV plays let Falstaff run away with the evening, undermining Shakespeare's theme about the nature of leadership.
Henry IV, Part 2
by William Shakespeare
Directed by Bill Alexander
To 5/16
The Shakespeare Theatre
450 7th St. NW
$16 to $66
202-547-1122
www.shakespearetheatre.org

Christopher Kelley's Prince Hal displays the character's complexity as he grows from tavern carouser to King. When Hal catches Falstaff insulting his character, Kelly perfectly captures the prince's realization of the changing nature in of their friendship. Keith Baxter, as the title character, comes into his own in the second part. Just as Henry V's rejection of Falstaff is van Griethuysen's crowning moment, so is the reconciliation between Henry IV and his son Hal for Baxter and Kelly. Baxter's fully realized characterization moves from despair about his life and his kingdom, to reassurance that his son will be up to the task of leadership.
Although they portray minor characters, Nancy Robinette Namoi Jacobsen, Floyd King and Hugh Nees turn in major performances marked by their comic timing.
Indeed, the Shakespeare Theatre's production of King Henry IV, Part 2 gets at the heart and soul of this history play. Alexander builds to his final exclamation point with a sharp hand. And while audiences may have wanted him to reinforce our notion about Falstaff as the cartoon character without a care in the world, he and van Griethuysen have shrewdly refused the temptation. And for that, we are deeply indebted.