Red-checkered tablecloths, bottles of wine, oil and vinegar, fistfuls of pasta, big hair, bigger passion, short skirts and thick gold chains. This is Joe Banno's Brooklyn, a perfect setting for his hip new revamping of The Comedy of Errors. Where else would Shakespeare land his classic romp through all things farcical than in an Italian-American New York neighborhood where the "Duke " reigns supreme (think Brando by the Bard), women dress in fine leathers, men sport elegant suits, and thugs run amok in nightclubs and through back alleyways? As Banno suggests, the Folger Theatre never looked so "Mafia-chic. "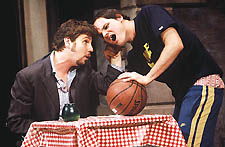 Antipholus (Clinton Brandhagen) and Dromio (Eric Sutton) are still the same identical twin brothers of Syracuse and Ephesus, but this time they washed up on the native shores of Long Island, where the foibles of their mistaken identities never seemed more flavorful or more fun. One set of the twin punks leads a tiny gang of shady cretins who revere Antipholus and his goofy bondsman. The other dumbfounded duo unwittingly strikes gold everywhere they go, scoring women and jewelry, money and plenty of "street cred. "
All dolled up in Kathleen Geldard's potent costumes, sisters Adriana (Marni Penning) and Luciana (Erika Sheffer) are among the first to mistake brother for brother, and the result is a giddy seduction scenario with as much physical humor as Shakespeare could have possibly intended. From here on out, Banno wastes no time punching joke after joke out of a script that isn't always quite so slapstick.
The Comedy of Errors
By William Shakespeare
To 5/23
Folger Theatre
201 E. Capitol St. SE
$30-$48
202-544-7077
www.folger.edu

But slapstick wears well when you've worked so hard at crafting an insular universe for one of Shakespeare's earliest and most oft-produced comedies. Through Banno's brisk, robust direction and Scott Burgess' brief but amusing musical interludes, this Comedy's timing seems just about perfect. It also helps to cast a group of actors whose chemistry bolts off the stage in small sparks of electricity.
Brandhagen and Sutton are both vastly entertaining in their quick-switch roles as two halves to a whole set of twins. Brandhagen is bold and eccentric one minute, helpless and utterly confused the next. Sutton's Dromio is half basketball-toting, drawer-hanging 'hood rat, half amiable doofus. The actor takes advantage of every comic opportunity available, but his crowning glory as jester lands in an impromptu stand-up routine straight out of the Bard's text: "Labor with me, people, " he quips.
Penning and Sheffer are also perfectly cast as the Brooklyn babes caught up in their own love triangles. Penning's whiny Adriana is an Italian princess with tantrums to match her fiery temper, while Sheffer is finally cast in a role that suits her ingénue image well. Banno concocts a lively bathroom scene for the two women in the second act, involving some fairly creative uses for toilet lids and dental floss. Tracy Lynn Olivera makes the most of her courtesan as a knitting dominatrix who stows away an assortment of "tools " in her handbag.
Updating Shakespeare is a novelty that can often go awry, but in Banno's hands — which were almost certainly adorned with a pinkie ring or two — The Comedy of Errors is a refreshing, sumptuous feast that puts a smile on your face early on, and maintains its frivolous humor until the elated end. Molto buono!
---
If it is possible that a piece of theatre can be both gritty and sublime at the same time, then Venus Theatre has achieved it in their world premiere production of Carolyn Gage's Ugly Ducklings. Set at an all-girls summer camp in Maine, Ducklings chronicles the physically and emotionally intimate relationships that develop between young women in their adolescent and teenage years. It's the bittersweet, somber story of Angie (Cindy Marie Martin) and Renee (MaConnia Chesser), two counselors who must battle authority and each other to claim their sexuality.
Ugly Ducklings
By Carolyn Gage
To 5/16
Warehouse Theatre
1021 7th Street NW
$15
202-783-3933
www.venustheatre.com

When Renee is confronted about her sexual preference and openly admits that she is a lesbian, she is immediately dismissed from Camp Fernlake, leaving her budding romance with Angie on ice. "You want to support me? Come out of the closet, " she rails at Angie. But how can Angie risk losing her job and her reputation among the young girls who look up to her for guidance and support? Gage's intelligent, witty script tumbles to its heartbreaking conclusion with the speed of a snail.
Thankfully, Deborah Lou Randall keeps the focus of her production headed in the right direction with an intriguing cast of no less than thirteen talented women.
Thirteen women equal a magnanimous cast for such a tiny crawlspace in the Warehouse Theatre. In a room that redefines intimate, Paul Kelm's realistic dock-set is as intrusive to its audience as the play's deafening message. And kudos to Venus Theatre for putting real people on stage: Randall's cast is a diverse group that offers a dynamic snapshot of women across generations, culture, and socio-political class.
Among a generally solid cast, Chesser offers a soulful, introspective performance as the young lesbian artist who falls in love against her will, and K.C. Wright is an impressive young talent as a troubled girl with a perpetual lying problem.
Gage, who penned last season's triumphant The Anastasia Trials in the Court of Women, never takes advantage of a few lucrative opportunities to wrap up her dawdling script, but through Randall's careful, committed direction, Ducklings is an engaging, ultimately telling portrayal of the struggles young lesbians face, particularly in the company of their unsympathetic straight sisters.