If you work hard enough and long enough at something, then it's not a surprise when you find your efforts succeeding. For Riki Wilchins and GenderPAC, the time seems to be right.
"There's a general social awareness around gender issues that's reached critical mass," she says. "This is an issue whose time has come."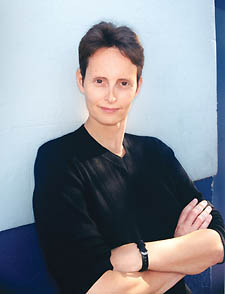 Wilchins
Wilchins, 52, is the founding executive director of GenderPAC — short for Gender Public Advocacy Coalition — which next week convenes its fourth annual National Conference on Gender and ninth annual Gender Lobby Day. About 1,500 people will arrive from across the country to share their stories and experiences with each other and their elected representatives.
Although many may assume at first glance that GenderPAC is a GLBT organization, that's not a fully accurate description of the group's work.
"We work to end discrimination and violence caused by gender stereotypes," says Wilchins. "It's an uber-issue that crosses groups."
Gender issues are one of the core issues for gay and lesbian civil rights because "GLBT people are singled out because their gender expression doesn't match expected cultural norms." Gays and transgenders have common cause in fighting gender discrimination, a fight that also ties GenderPAC's work to women's rights.
While there's still a lot of ground to be gained, Wilchins points to a number of positive developments in their work, including the 146 members of Congress who have signed their joint diversity pledge with the Human Rights Campaign that bans discrimination based on gender expression in their offices.
"Nine years ago we might as well have landed from Mars," she says of the group's initial Lobby Day forays onto the Hill. But things changed as they kept working, particularly with early support from the Congressional Black Caucus.
Although political efforts have yielded successful drives for gender expression protections in many cities across the nation and portrayals of characters who cross gender norms have increased in the media, Wilchins says GenderPAC is also focused on the continuing problem of gender-based hate crimes. In particular, she says, they've been tracking a number of assaults against transgender youths, stories not always picked up by the mainstream media.
Because so much of success depends on the growing awareness and acceptance of gender issues by the broader population, one of the highlights of GenderPAC's conference weekend is "Stand-Up for Gender Rights," an evening of comedy and performance at the 9:30 Club. Comedians Judy Gold (Sex and the City) and Kyle Grooms (Comedy Central's Straight Plan for the Gay Man) will kick off the evening's entertainment, which will end with the Great Big International Drag King Show (see "Gender Blender," page 34).
"I love [getting to] watch both shows," Wilchins said about the weekend's big-bang entertainment. "It's great to see all these people coming together."
But she does allow a special compliment for the drag kings who will be taking the stage: "I think they're totally hot. I wish they'd been around ten years ago."
The GenderPAC National Conference on Gender runs from Friday, April 30 through Sunday, May 2, at the Doubletree Hotel Crystal City, Va. For registration and information visit www.gpac.org. "Stand-Up for Gender Rights," Saturday, May 1 at the 9:30 Club, 930 V Street NW. GenderVIP Bash at 6:30 p.m., tickets $100; Comedy Show with Judy Gold and Kyle Grooms at 7:30 p.m., tickets $25; Great Big International Drag King Show at 10:30 p.m., tickets $18. Tickets for performances available at www.930.com or at box office.