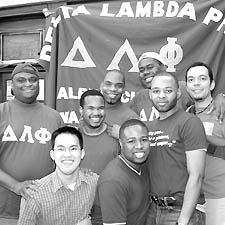 Delta Lambda Phi members at
a recent fundraising sale
Mission: Provide meaningful friendships and social interactions in an atmosphere of social, service and recreational events.
Founded: 1986
Number of Members: 16 active members with approximately 300 alumni.
How to Join: Come out for fall or spring rush. Following rush there is an eight to ten week pledge period after which selected pledges become brothers. Dues are approximately $270 a year.
Background: Mylon Kirksy, vice president of the Alpha Chapter of DLP says he originally came out to rush because "at the time I really didn't have a social network and was looking for that opportunity to get involved with and meet other people." Kirksy, who had just moved to Washington, says the group was a great way to meet people outside the bar scene. Because of his experience Kirksy, who is also responsible for rush, says he wanted to help introduce others to the group. "The most satisfying experience that I had [in the group] was when my first rush class became pledges. It meant that I had made a difference and that is what I am here to do."
Contact: Visit the group's web site at www.dlp.org/alpha.
Next Event: Check the web site for upcoming events.