One could easily argue that Ron Perlman's most memorable performances are those in which he's encased under heavy duty, extra-special effects makeup. For proof, witness his superlative work in TV's Beauty and the Beast or his magnificent 1981 screen debut, Quest for Fire. An actor who has used his enormous frame and offbeat, slightly exaggerated features to his advantage, Perlman is gifted enough to convey genuine character sentiments and emotions though the latex overload. Which is almost certainly why Guillermo del Toro chose to cast Perlman as the lead in Hellboy.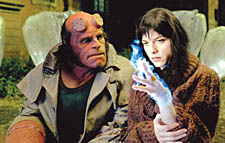 Taking to the role like a devil takes to a red pitchfork, Perlman brings to the role a relish-rich wit, a misfit's sense of pathos, a hero's casual aplomb, and, when needed, a scorching blaze of adolescent rage. It would have been so easy to play Hellboy as caricature, but Perlman provides the character heart, soul, and the richness of life. And in doing so, he provides poignancy, humor, heft and drama to an overly-complicated, frequently scattershot narrative that doesn't have much to show for itself in the gravity department.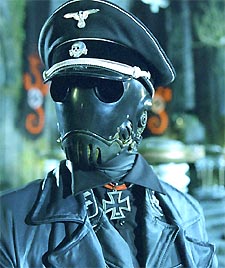 Based on a comic book by Mike Mignola, Hellboy makes no apologies for its deployment of blatantly derivative schematics. Its secretive, outcast heroes appear to be modeled upon the X-Men with a touch of the Fantastic Four thrown in for good measure, and the movie's Nazi-occult inspired storyline nudges into Raiders of the Lost Ark territory. There is some originality in Hellboy's depiction of it's titular hero — the creature is, after all, a demon straight from the gaping maws of Hell, raised from infancy by Professor Broom (John Hurt), who heads the FBI's ultra-secret Bureau for Paranormal Research and Defense, situated, amusingly enough, in Newark, New Jersey.
Hellboy, who resides at the facility in a steel encased vault with several dozen stray cats (he's got a soft-spot for kitties), ignites media speculation whenever he's rumored to have been spotted out and about. He's become such an urban myth, he's even got his own comic book. "I hate those comic books, " he complains to fresh-scrubbed recruit John Myers (Rupert Evans), his new FBI handler. "They always get my eyes wrong. "
The agency persistently denies Hellboy's existence , a task that proves increasingly difficult as the three forces of evil — Rasputin (Karel Roden), the part-human, part-mechanical slice-and-dice machine Kroenen (Ladislav Beran) and an S.S. she-wolf aptly named Ilsa — unleash a wildly propagating, gelatinous hellhound called Sammael onto an unsuspecting public. It's all in preparation for the big day — Armageddon — which, according to Rasputin, Hellboy will have a hand in if he's to follow his true demonic destiny.
That's going to be a tall order for the nasty Rasputin, however. As raised by Professor Broom (who, in the movie's lengthy preamble, calms the infant demon with a Baby Ruth bar), Hellboy has cast aside his true evil nature in favor of good. Oh, he's a bit of a hellraiser every now and then, but what boy isn't? Along with the silken voiced, psychic "Mer-Man " Abe Sapien (body by Doug Jones, voice by David Hyde Pierce), and pyro-kinetic agent Liz Sherman (Selma Blair), Hellboy gives the bad guys a real taste of — what else? — hell.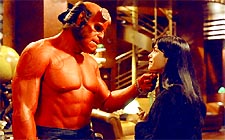 Del Toro is one of those directors who prizes style over substance — abundantly so — and it shows throughout Hellboy. The movie is two hellacious hours of non-stop action, a means of fortifying the narrative's sometimes shaky foundation. The story is framed around a seek-and-destroy evil mission with a touch of unrequited romance thrown in (Hellboy pines for Liz). A scene in which Hellboy, fueled by jealousy, trails Liz and Myers on a "coffee date " is both funny and a little sad. Perlman humanizes this big red beast with the filed-down horns ("to fit in better "), frisky tail and right arm made of stone to the point where we truly care about his feelings. When Hellboy says to Liz of his face, "I wish I could do something about this, " his anguish is sincere and palpable.
Hellboy
Starring Ron Perlman and Selma Blair
Rated PG-13
132 Minutes
Area Theatres

Hellboy is enjoyable enough to watch — del Toro is a master at creating mood — but it doesn't emotionally grab you in the full-throttle way that X-2 did. Most of this is due to the ennui of repetition — the strains of the comic book-to-big screen genre are showing, as superhero movies almost always have the same basic plotline.
Still, Hellboy might have some sequel life in it, particularly if the filmmakers concentrate on the underlying irony — and overlying religious complexity — that comes with a hero bat out of hell. With a little attention to story and nuance, Hellboy could move into a classic status and find a place alongside such heavyweights as Superman, Spiderman and Batman. And it could give the more-than-deserving Perlman a long-lasting movie franchise on which to sail from here into a fiscally rewarding retirement.