In the beginning, there was Stephen Schwartz. In the 1970s he created the bright and bubbly musicals Pippin and Godspell. In the 1990s he wrote sprawling scores and popular songs for several animated Disney films. And last year, Schwartz re-defined Gregory Maguire's concepts on the Wicked Witch of the West in the Broadway production of Wicked. And we saw that this was good.
But back in 1991, Schwartz teamed up with John Caird, of Les Misérables renown, to create a sophisticated piece of theater also based on pre-existing literature. For this effort, Schwartz and Caird re-examined the first nine chapters in the Book of Genesis, and the result was Children of Eden, a gem of a show that never quite made it to the Great White Way. With David H. Bell's vibrant, endlessly entertaining revival at Ford's Theatre, it's found renewed life.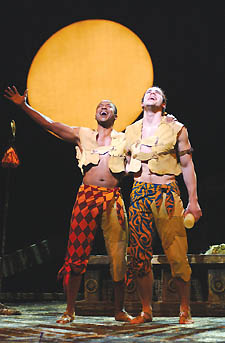 Bell, the wizard behind Ford's annual A Christmas Carol and last season's 1776, has conceived a Technicolor wonder that is as aesthetically exciting as it is musically satisfying. In a spectacle comprised of equal parts The Lion King, Joseph and the Technicolor Dream Coat, and the 1990 Flaherty-Ahrens musical Once on This Island, Eden is a rich, animated production as delicious as Eve's proverbial apple. But this is not just the epic story of what happens once Eve bites into the forbidden fruit. Schwartz and Caird go one step further, examining ancient familial relationships, specifically between father and children. Like a church experience without the religious fervor, Eden casts a warm spotlight on the consequences of disobedience and the importance of holding faith in others.
Adam (Joe Cassidy) and Eve (Becca Ayers) find themselves alone in the Garden in act one, and from there we all know how the story goes. And in act two, as a result of some pretty inventive double casting, Cassidy and Ayers become Noah and "Mama, " Noah's wife. The stories intertwine when Father (a youthful Bradley Dean) must intercede, begging the "children " to trust him against their doubt. Meanwhile, Adam, Eve, Noah and Mama all have similar problems guiding their own brood.
Under Bell's taut direction and accompanied by a finely-tuned orchestra led by musical director Brad Haak, the cast of Eden conjures a delightful spell. From their soaring voices in the opening number "Let There Be " to their flawless execution of Bell's amazing choreography, this is an ensemble that dazzles.
Children of Eden
To 6/6/04
Ford's Theatre
202-347-4833

Bell's imagination shines in two highlights of the evening: in the first act he gives his group a challenging number during Eve's seduction by the Snake. Later, an incredible re-telling of the parade of animals on the ark is a mesmerizing display of human postures and brilliant choreography that unfolds like magic on stage. Bell also employs the unusual talents of Cirque de Soleil performer Ivo Gueorguiev throughout the evening. Instead of pointless distractions that advertise Gueorguiev's presence, Bell shrewdly designs memorable moments for the athlete's physical fanfare.
Both Cassidy and Ayers are moving actors who wear their roles well, but Ayers is outstanding as Eve. Her first solo, "The Spark of Creation, " is a tiny musical miracle, showcasing Ayers' vocal nuances and pop belt. Bell's supporting actors are just as skilled: André Garner and Nicholas Belton are fabulous as the two conflicted brothers Cain and Abel, and Karen Olivo's Yonah is a high point in the second act. Her passionate rendition of "Stranger to the Rain " all but brings down the house. If there is one quibble with Bell's casting it is the choice of Dean as Father. While Dean was almost certainly hired for his impressive stature and rich, broad voice, he isn't exactly a convincing figure as the Father of all creation.
James Leonard Joy designed Eden's versatile set with a large, symbolic staircase and a dark stage frame that serves as a simulacrum of the inner core of a rotten apple. In a perfect contrast to Joy's dense, wooden scenery, Diane Ferry Williams splashes color upon color in a dramatic lighting scheme that is wholly remarkable. Williams' luminous moon casts strange and foreboding shadows one minute, then evolves into an enormous, radiant sun the next.
If Paradise could be found here on Earth, no doubt it exists within the fiercely captivating spirit of Children of Eden. Bell's enthralling presentation has everything: fantastic stories, laborious lyrics, clever choreography, even a flying man. However tempting it may be to presume that Eden sounds too saccharine or that its Biblical archetypes are redundant, do not be deceived — it is some of the best theatre Washington audiences will see this year.
---
Whatever the exact opposite of Paradise is, it can be found in The Studio Theatre's Far Away. Caryl Churchill's abstract pseudo-drama is nothing more than a waste of time and talent, most notably for the cast of no less than forty extras hired to drudge through a sinister fashion show of prisoners that could easily pass for a scene straight out of Kubrick's A Clockwork Orange. Gil Thompson's queer sound design is also reminiscent of the same psycho-thriller fare, and under Joy Zinoman's direction the entire 45-minute production feels annoyingly incoherent.
Churchill, the controversial playwright behind Vinegar Tom and Blue Heart, establishes no clear political intent or avant-garde theme to run with in her crazy puzzle of a play. The dialogue, which often sounds like bad Dada poetry, is filled with puzzle pieces that even if you knew how to pick them up, you still wouldn't know how to use them, or even know if they belong in the same puzzle. Opening with a bizarre scene involving Young Joan (Simone Grossman) and a suspicious elder woman (Mikel Sarah Lambert), Churchill's scenes develop with the clarity of mud. The dialogue between Lambert and Grossman is steeped in lies, stories and secrets involving a bloody incident in the middle of the night.
Far Away
To 5/9/04
The Studio Theatre
202-332-3300

The latter scenes take place with a now grown-up Joan (Holly Twyford) working in a hat factory with Todd (Matthew Montelongo). The inexplicable actions between the two and the subsequent scenes that follow are so ambiguous they don't even bother flirting with reality. Eventually Lambert and Montelongo end up comparing various wild animals with human races and ethnic profiles.
Supposedly, Churchill's creation involves evidence of war, wartime commentary, victims of war, spoils of war, war, war and, you guessed it, war. But where is the message? Although Joan's final speech is deeply rooted in symbolism and drowning in heavy metaphor, what she is talking about exactly is anyone's guess. Beyond its face value, Churchill's purpose is lost in a torturous guessing game that says nothing, proves nothing, and accomplishes nothing.
Nothing can save this awkward, ultimately incomplete script: not the acting prowess of Twyford or Lambert, not veteran director Zinoman, not its swift, stunning conclusion, not even Helen Q. Huang and Catherine Zuber's magnificent hats. Far Away is just too far gone.