"What is a drag king?" muses Kendra Kuliga. "You could say male impersonator, but that's so the tip of the iceberg. I've seen drag kings go between being a woman and being a guy all in the same performance. I'm both a male and a female while I'm performing."
As her well-known alter ego Ken Las Vegas, Kuliga has been blending the masculine and feminine on stages from D.C.'s own Chaos nightclub to venues across the nation and the Atlantic Ocean. As one of the organizing forces behind the D.C. Kings, she's helped shape Washington into one of the hottest spots in the internationally burgeoning drag king scene.
But, then, what exactly is a drag king?
"Drag king can be defined as a gender performer," says Kuliga, who gives the same words of advice to every new drag king who joins the group: "You don't have to be anything other that what you feel drag king is to you."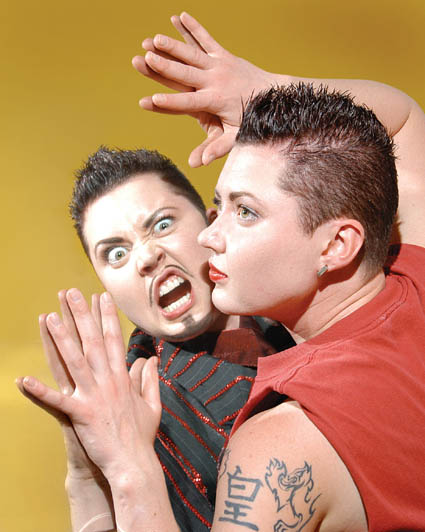 Kuliga
It's an appropriate ethos for a performance art that's based around mutual support and family-like bonding. While a prominent member of the D.C. Kings and one of the most recognizable drag kings in town, Kuliga is adamant that D.C. Kings is a group effort that wouldn't work if it were boiled down to just one person.
That's why this weekend at the Great Big International Drag King Show at D.C.'s 9:30 Club you won't see drag kings competing for a crown — you'll be seeing a collection of performers doing what they love, entertaining a crowd. In this case, they'll be entertaining as part of the Gender Public Advocacy Coalition annual Conference on Gender.
Kuliga lauds the work that GenderPAC is doing on behalf of everyone who blurs and blends the gender lines society expects, issues of particular importance to GLBT persons, but also to straight men and women who don't conform to traditional roles.
"These are very real people, and they need the respect that they deserve," she says. "G-PAC's got their back."
The daughter of a Brazilian mother whose family was part of the famed Gracie school of jujitsu, Kuliga has had her fair share of exposure to how masculinity and femininity play out in day-to-day lives. The recently-thirty photographer and artist — and former Metro Weekly employee — uses those roles and expectations to create a character different than her, but still her own.
METRO WEEKLY: So how does it feel being thirty?
KENDRA KULIGA: I had a rough time turning thirty. I don't feel like that. I feel like a kid, you know? I'm not ready to cash in my chips and be a grown up. I think thirty-one might be easier. But being thirty, I own myself much more than I ever have in how I feel about myself and my body. Women in their thirties are much more okay with themselves than women in their twenties, because you just kind of get over it — it doesn't matter if I'm thin, it doesn't matter what I do, it's not going to affect the way people treat you at the end of the day. But it's not easy. I'm still working through it.
MW: Were you unhappy with your body and appearance in your twenties?
KULIGA: It's funny. I look at pictures from when I was 21-years-old when I had the worst body image — and I was so fierce. I ran six miles a day, worked out like crazy, and I still thought I was fat because I was dating a girl forty pounds lighter and six inches shorter than me. I've always had an issue with body image, feeling that I was too soft. I had this desire to get hard and have a muscular body. I got into some body building, but stopped abruptly about six years ago when my brother died. And I just couldn't go on. It was too hard to get to the gym. I was too busy dealing with the mourning.
I actually just got back into working out. When thirty hit, reality hit. It's not even about other people — it's just that I couldn't bend down. I was at a club dancing and I wanted to do a bend-down move — it was like, "I can't move like that. What's going on?" I had to do something about it.
MW: You mentioned your brother's death and that's when you stopped working out. How are those two things related?
KULIGA: It's funny how you don't realize things until after the fact. I was always the slow, fat sister and my brother was very fit, in the military. When I first started working out I didn't realize that on a subconscious level I was doing it for his approval. That was the only thing we had in common, because he was this straight, right-wing Christian guy and his sister was this free-spirited artist.
The last time we hung out I was probably in the best shape of my life. I asked him, "So what do you think about your sis?" And he was like, "You look amazing. I'm proud of you." To me that was the world because he would never tell me the good stuff — it was guy pride or something. And that was the last day that I saw him. He passed away in jet ski accident in San Diego. After that, I was still going to the gym but my mind wasn't in it anymore. I realized I was doing it for his approval and he wasn't around to give approval anymore. So it lost its meaning at the time. To this day I still think about him. People say they have siblings — I say "I used to be a sister. I used to have a brother." It's a little weird. I try to carry him with me, though.
MW: You've been a prominent member of the drag king scene in D.C., where Ken Las Vegas remains a popular and recognizable figure. How did it all start for you?
KULIGA: I went to New York City back in 1996, and I picked up HX For Her and on the cover was a drag king named Lizerace. I ain't gonna lie — I was a big old femme girl at the time. Full makeup, totally diva. I didn't understand the masculinity of it, why women would want to be masculine or butch. I had this kind of adverse reaction to seeing a woman dressed as a man. I was like, "Why would somebody want to do that?" But the magazine also had a picture of Lizerace with his girlfriend who was absolutely beautiful — that was impressive, I have to say.
A few months later in D.C. the Lesbian Avengers were doing their first drag king contest at the Hung Jury. I didn't know what it meant — I thought people were just gonna dress as guys and walk around and try to convince the audience that they were men. I called them [and] they said that it was a contest where you danced and lip synched and did whatever you thought was appropriate. That was exciting because that was like what I did when I was a kid, dancing in my bedroom to George Michael, the Cure and Morrissey. And here's opportunity to actually do this in front of people? Okay, let me try it.
I had so much fun. I didn't care about winning, I cared about having a positive experience. To this day, my character is not convincing as a male — I don't ever feel that I'm trying to pass as a man per se. If I'm going to pass as anything it would be an effeminate gay man. But the thing that I noticed was how people treated me with more respect and more attention than they did when I was a big femme girl. They listened to me and moved out of my way when I was walking through the crowd. Before, I would have to push my way through the audience. I was like, we have to dress like a guy to get this sort of attention? Society definitely treats men differently than women. To this day when I dress in drag I get treated differently than I do when I'm a girl.
MW: You say you were really femme when you were younger — how has being a drag king impacted your own presentation of your gender?
KULIGA: I was given the very rare opportunity to be able to dress as both genders and be treated as close as I can understand to how a man is treated when I'm dressed in drag, at least in the queer community. I sometimes do venture out into the straight community dressed in drag — like, I'll walk the streets, you know? But I'm scared to death because I know that I'm not a guy and if I was found out, I don't know who I could meet and what kind of danger I could put myself in. So it can be a little scary in a non-queer-friendly environment.
But dressing in drag taught me about posturing myself and how my body language can determine how people treat me. It's about owning space. Men tend to spread out more — they put their legs apart, they have their shoulders wide, they relax when they're in the presence of people. As a girl, at least in my experience, I was conditioned to be very conscious of my space and contain my space and not let my space overflow into other people's space.
But it's just using whatever works for me, both masculine and feminine traits. I don't feel like I have to choose which side I want to be on. There are some positive things to being treated like a guy that I don't have any access to when I'm a girl. Would I want to live twenty-four-seven as a guy? No, because it's too limiting. By being me I can go back and forth and not really have to be one way specifically one way or another. I have my options.
MW: You've said that the D.C. Kings are a different kind of group in how all the performers interact. How is that?
KULIGA: When I was given the responsibility to do the shows at Chaos I knew that to make it work people had to be cooperative and supportive towards one another. It couldn't be a competition or a space where people cultivated their egos and their insecurities. Because being out there on the stage is an insecure experience. If somebody else got more attention or got more tips, then that invalidated us because we didn't do so well out there, and that can cause resentment. I'll be straight out — women take it too personally. They'll stop performing, they'll stop being out there if they feel like they're not being supported. So the only thing that will keep you in the D.C. Kings is being respectful and supportive of the other Kings. You can't trash them, you can't have all out dramas in the show. You can't have personal drama. And if you do you're out. It seems to work because we have about 75 kings in the Washington area and we're growing.
MW: In the drag queen community, you see more and more transgender performers and performers who use implants or hormones to enhance their appearance. Is that similar in the drag king community? Are there a large number of transgender performers, or is it primarily lesbians?
KULIGA: There is an interesting phenomena, and this has been somewhat of an issue over the last two years. What happens when a male impersonator, a.k.a. drag king, becomes a male? Is it necessary for him to perform anymore? Is it appropriate? Some kings bow out. They're like, "Thank you for being supportive, but now that I'm transitioning, I'm no longer going to be active in the king community." And it seems like the obvious assumption that if someone is living their life as a guy, why pretend anymore? But I'm learning that what is obvious is not always what's true or what should be done. Maybe some of those people were leaving because they were afraid of being rejected and questioned in the king space. At the end of the day, gender performance is gender performance regardless of what's between your legs, in your head, or in your veins, whether it's estrogen or testosterone. Some folks really like performing. Why stop entertaining just because you want to live your life as a full-blown man?
MW: You were talking about the no-drama rule. I think the conventional wisdom is that there's probably a lot more drama among drag queens.
KULIGA: It's a lot more competitive.
MW: But they're also a very tight, distinct community in many ways. Is there an approach that the drag king community is taking that really defines them as being more than a flip-side of the drag queen community?
KULIGA: The biggest difference that I can honestly say is that we're not competitive. D.C. Kings will not do competitions. Once you put two people who consider each other family out there vying for judge's points you separate people. But drag queens thrive on it — they want to be the queen. And if they're not the queen this month, they'll be the queen at another bar next month. It's the competitive edge that men — I'm sorry to say this — have been raised with it, regardless of how they feel about their gender presentation. It's like football and baseball and all these competitive sports where you win a prize. That is something that's definitely different between the drag queens and the drag kings, the competitive nature.
The D.C. Kings actually performed one of the last shows at the Renegade in Rehoboth, at a drag show during the winter [before they demolished the club]. This one queen said to me, "I really admire how supportive you guys are, how much of a family you are. I wish we had that. It's all about who the queen diva is and who's running the shows." It was just discouraging. She said she'd been doing it for so long but she always feels like she's not part of a group. There are support systems in the queen community. But then there are places where it's everyone's for themselves. And it's sad because I think it takes away from how positive it can be for everyone.
We get enough abuse as it is from our families and from society. And in the queer community we have the opportunity to be loving and supportive in a safe space. Yet we still take out our inner-dramas and our aggressions on each other. It's destructive. It causes people to be abusive and destructive towards themselves with drinking, drug abuse and maybe promiscuous sex and all sorts of destructive behavior, because we're not being responsible for how we treat each other.
MW: When people go see this weekend's show, what do they get?
KULIGA: The biggest drag king show in the world. I'm serious — I've done my research. I mean, when we had the drag king shows at the Black Cat, that was big. [But] the 9:30 club can give us multimedia and lighting. The lighting is going to be the biggest thing — it's so rock star, it's amazing. I think it gives huge credit to the work that all of the kings have done in order to deserve a space like this. But we've definitely been growing year after year, in leaps and bounds. We're ready, man. People who attend this show will see things that they never knew were possible. We've got some amazing surprises in there.
The Great Big International Drag King Show takes the stage on Saturday, May 1, at 10:30 p.m. at the 9:30 Club, 930 V Street NW. Tickets are $18 and are available at www.930.com or at the box office. For more information about the evening visit the GenderPAC website at www.gpac.org. For more information about the D.C. Kings visit www.dckings.com.