With temperatures finally going up, it's time to start taking the tops down. What better way to enjoy the new blooms and leaves of spring than to drop the top and take a ride on the scenic route.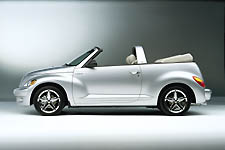 PT Cruiser Convertible
Chrysler expands its line-up of convertible models this year, moving beyond that aging standard Sebring ragtop coupe. This year's newer, flashier model is the topless 2005 PT Cruiser, rolling out onto streets in spring. This model renews the zip of the aging brand — with the top down, it looks every inch the beach-mobile. It looks a little awkward with the top up, but precious few soft-tops do.
You can pick up the base model for $19,995. For those who long for more power in the urban cruiser, consider upgrading to GT model with the 220-horsepower turbocharged engine for just under $28,000.

Crossfire Roadster
Chrysler's other big convertible news is the 2005 Crossfire Roadster. This topless version of the much-touted fruit of the merging of Chrysler and Mercedes is a fusion itself of American and German sports car design, with lines every bit as aggressive as the head-turning, love-it-or-hate-it BMW Z4 Roadster. Filled with styling bells and whistles, from the groove-lined hood to the speed-activated rising rear spoiler, the Crossfire will turn as many heads as any Euro-model could. The hardtop Crossfire runs in the neighborhood of $35,000 — expect to pay a little more to lose the roof. The Z4 starts at $33,600, but a power boost for the engine will bump you up to $40,900.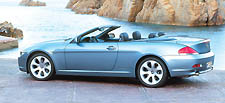 BMW 6 Series Convertible
If the Crossfire and Z4 both come across as a bit too land-sharky for your tastes, check out BMW's new 6 Series Convertible ($76,300). It looks tamer from a distance, but peer closely and you'll find the distinctive stylings that have come to mark BMW's recent efforts. Then take a look under the hood at the 333bhp V-8 engine and you'll be itching for some cruising.

Cadillac XLR
If you think a soft-top will overwhelm your ears with highway noise, you may be the target audience for one of the handful of retractable hardtop coupes. Cadillac continues to fly in the face of curvilinear design with the defiantly angular 2004 XLR, built specifically to compete with similar models from Mercedes and Lexus. Built for speed with a hefty V-8, you can hit the highway in this one for $76,200.
But if curvy is what you want, the Lexus SC430 fits the bill with its quick-down aluminum top and silky V-8. Priced less than the Caddy at $63,200 the SC430 can seat four, which means you can bring more friends along for the open ride.
That is, if you're inclined to share.