David Binder is busier than he's ever been in his years as a New York theater producer, and he certainly sounds it when he answers the phone with a quick "Hang on, hang on one second, okay?"
It's to be expected from a producer whose revival of A Raisin In the Sun, starring Phylicia Rashad and Audra McDonald, debuted just this past Monday at New York's Royale Theatre. But from a Cherry 9 perspective, you may be interested in his previous big production, the off-Broadway sensation De La Guarda, which takes the stage at Nation as the featured entertainment for the Saturday night event. A thoroughly interactive experience that aims to engage all five senses, the show originated in the nightclubs of Argentina a decade ago and is billed as an "experience that's about theater as clubbing and clubbing as theater."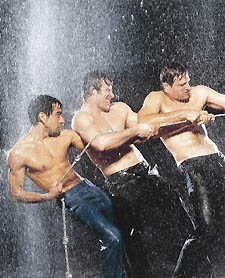 Binder was so blown away when he first saw it he made quick work to bring it to New York, where the acrobatics and energy of the show have made it a long-standing hit. A native of Los Angeles, Binder moved to New York in 1990, and within a couple years he became the first producer of the off-Broadway cult hit — and later critically lauded film — Hedwig and the Angry Inch, by John Cameron Mitchell. An auspicious beginning for an obvious risk-taker, clearly out to make his mark on Broadway.
METRO WEEKLY: Has De La Guarda traveled to any other gay circuit parties?
DAIVD BINDER: Nope, this is the first time we've done one. It'll be really fun.
MW: Tell me about the "Boys Night" events that you've done with the show.
BINDER: We've been doing Boys Night events on and off for the whole run of the show. It's a regular performance of De La Guarda mixed in with a DJ for a gay audience. So the DJ plays prior to the show, during the middle of the show and after the show. The DJ is very integrated into the performance actually. We've had every major DJ from Tony Moran and Manny Lehman to Brett Henrichsen and Abel. It's really a fun performance and exciting because it brings De La Guarda back to its nightclubbing roots.
MW: What's involved in a De La Guarda performance?
BINDER: The show, as it is, has more energy that just about anything [else out there]. It's incredibly interactive — the audience is really the center of the experience. It's very participatory. They want to pull you into the middle to experience the show. There's a cast of nineteen — some are models, some are dancers, some are actors, some are mountain climbers. They come from all different backgrounds. They perform in and around the audience, primarily in the air.
MW: Sort of like a trapeze act?
BINDER: No, it's not trapeze at all. It's all bungee cords. It doesn't have that circus aesthetic — the energy is much more visceral, explosive, late-night club energy. You have women running straight up and down walls, you have people exploding through ceilings.
MW: I've heard we should prepare to get wet.
BINDER: I don't want to give away too many elements of what's going to happen because I think it's really great for people to experience it first, on their own.
MW: What's next for you after Raisin the Sun?
BINDER: I'm working on a bunch of stuff for the future, but right now at the moment I'm focused [on Raisin.] Getting a Broadway show open is a lot of work.
MW: Are you planning to come down for the performance at Cherry?
BINDER: I'm going to try to be there. I think it's going to be a really incredible night.
De La Guarda performs at the Cherry 9 Saturday Night Event at Nation, 1015 Half Street SE, 10 p.m. to 6 a.m. Tickets $65 in advance, $70 at door if available. Tickets available at Universal Gear, 1601 17th Street NW, or at the Cherry Welcome Center, Washington Terrace Hotel, 1515 Rhode Island Avenue NW. Visit www.cherryfund.org.