Pop musicland is a desert. It's nearly barren of openly gay male solo stars. Ari Gold is one of at least two gay pin-up boys currently posturing to provide us an oasis, though his ultimate aim, of course, is crossover success in the sea of mainstream.
But Gold is trying so hard to succeed as a gay R&B/pop star on his sophomore self-released set, Space Under Sun, he loses sight of the details. He's not paying attention to his music, creating instead an album filled with overworked song formulas. He's also not paying attention to his vocals, contorting his talented voice so much that he repeatedly hits flat notes unintentionally.
Ari Gold
Space Under Sun
Gold 18 Records

And Gold's certainly not paying attention to his lyrics. One of the more complex lyric lines on "Funk That Ship " really, truly goes: "Rock the boat, shake that ass, bubblelicious, automatic. " It's a Titanic of a song: It begins with a silly theme that's never fully developed, then gets bogged down by a treading-water groove and a drowning chorus, featuring nothing but the title phrase, repeated three times. And then once more, by way of an annoying computer-distorted vocal a la Cher. That finally sinks it.
Matthew Duffy is another gay popper vying for our attention through sexually suggestive come-ons (though he keeps these studiedly gender-neutral). Duffy actually shows budding musical talent on his self-released album, Here I Come, his debut. It features one great pop song, "Take to the Sky, " and several others that are more than halfway there, including the Mirwais-styled acoustic title track.
Matthew Duffy
Here I Come
cdbaby.com
$14.95

"Take to the Sky " is candy-coated, effervescent electronica with a rising chorus, in the manner of Amber. And significantly, it's sung with near-perfect vocals, rarely clipped by a trailing whisper or stretched to a groan due to poor breath control, which is unfortunately the case elsewhere. When he lets it be, he actually has a fine voice, dripping with sincerity like Erasure's Andy Bell or especially Soft Cell's Marc Almond. "Take to the Sky " could be the breakout hit he and his handlers are looking for. It should also be the template when he heads back to record his sophomore album.
Duffy spends too much time channeling the cold, distant electro-pop sound that has worked so well for others, including Britney Spears, whose breathy, whispering vocals Duffy emulates on nearly every track. It gets old very, very quick. Both Duffy and Gold inadvertently show us in American Idol fashion just how undeveloped they are as performers by picking challenging pop hits to cover. Duffy ends earning polite applause with his handling of Jody Watley's left-field hit "Still a Thrill. " But Gold gets nothing but boos for his take on Culture Club's classic "Do You Really Want To Hurt Me, " a scandalously easy-listening track, shorn of all traces of the original's scorned sensibility and dazzling delivery. It really hurts.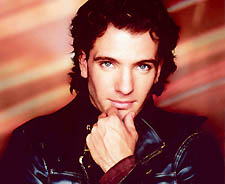 Repeated listens to JC Chasez's recently released solo debut, Schizophrenic, demonstrates Chasez's musical superiority. Like Gold's effort, some of the songs suffer from undernourished or just plain unfortunate — and juvenile — lyrics, but unlike Gold the music nearly always shines.
Chasez's first single, "Some Girls (Dance with Women) " is, lyrically, an irritating ploy to establish his straight male credentials. But the music sneaks up on you, forcing you to hum along. Same goes for the pandering lyrics of "All Day Long I Dream about Sex, " redeemed by its fascinating acoustic meets electronica sound and an extended instrumental bridge that glistens with updated '80s synth-pop. (It's not cold or distant here.) The 27-year-old is not afraid to appropriate musical sounds and styles popular during his childhood that are not top-of-the-charts now. There's very little hip-hop here.
JC Chasez
Schizophrenic
Jive

Chasez exudes confidence in creating pop music — and especially playful pop music of a hot-blooded, dance orientation. You sense his smile after completing each track. Perhaps Duffy and Gold come across as too earnest because they're too new and too untested in the pop spotlight, which certainly isn't the case for Chasez. He doesn't create anywhere near a perfect album, though in its way it matches his 'N Sync cohort Justin Timberlake's respectable 2002 debut. Chasez's is too long, for one thing: 17 full-length songs stretched over 80 minutes is a lot of time to spend with one artist, especially on a debut. At least every track is worth listening to.