"I started out as a queer comic — still am. But then I started doing one-person shows. And they got attention and it raised my visibility as a performing artist to a whole new level. And then the little feeding frenzy started with talent agencies, and I wound up suddenly in L.A. poised to be the Latino Whoopi Goldberg or the lesbian Jennifer Lopez. " Marga Gomez sighs. "But then, there weren't any parts going to somebody like me. They were all being taken by Chihuahuas. "
Gomez's quest for moviestardom did land her one somewhat significant role — in the bomb Sphere, which also starred Sharon Stone and Queen Latifah. "Many regard it as one of the biggest Warner Brothers flops ever made, " says Gomez, almost cheerfully.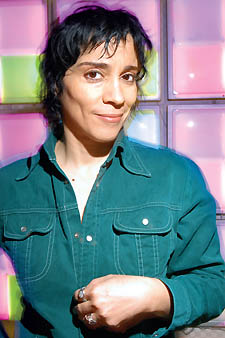 Gomez
Her experience on Sphere serves as the basis of Gomez's latest one-woman show Los Big Names, presented by the Woolly Mammoth Theatre Company.
The only child of a Cuban comedian and a Puerto Rican belly dancer, Gomez's Los Big Names also deals with the impact of growing up in what she calls an entertainment subculture.
"The show is about people who pursue fame over of intimacy and love — the core of what we need as human beings — and instead make the choice to go for the superficial attention you get with celebrity."
During much of her screen time in Sphere (before her character gets killed off-screen by "giant eggs "), Gomez, playing a military computer expert, is seated at a console next to Queen Latifah.
"My personal character subtext was that I was a lesbian, " she says. "And Queen Latifah's character was my lover. But in the military it's 'Don't Ask, Don't Tell.' So it's all in my eyes in Sphere. I have lesbian eyes. You see me sitting at the sonar controls, but I could just as easily be shooting pool. "
Los Big Names runs through April 18 at the Kennedy Center Film Theatre. Tickets are $24 to $39. Call 202-467-4600 or visit www.woollymammoth.net.