First performed in 1817, Gioacchino Rossini's La Cenerentola, a comical take on the Cinderella fairy tale, has been recast by the Washington National Opera as a '50s retro farce. It's a fun, sometimes witty, rendering of the old story, nicely souped-up with hot-colored vintage costumes and sets of a Dr. Seuss-like sensibility.
Mezzo-Soprano Sonia Ganassi, renown for her coloratura contralto, graces us with her unusual vocal abilities, moving through her lower register with supple ease and then bringing home gloriously rich high notes with power. Though she was momentarily drowned out by the orchestra in act one, she quickly found her feet and was in full voice until the end of the opera. Ganassi is a compelling presence on the stage and her instant yet innocent ardor for the Prince, who she meets first in disguise, is very believable.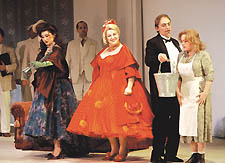 The other linchpin of this production is Alfonso Antoniozzi as Don Magnifico, Cinderella's cantankerous stepfather (as opposed to stepmother, one of several variations on the old theme). Antoniozzi gives a whopper of a performance, creating his comically disagreeable character with physical and vocal dexterity.  He's a riveting, precise, high-energy singer who adeptly uses his voice to convey his character's mercurial personality. Many a scene turns on his ability to carry the plot and the silly mood — and he keeps it all fresh and fun.
No telling of Cinderella's tale would be complete without the two evil stepsisters who scramble to get to the Ball. Clorinda is sung by Hoo-Ryoung Hwang and Tisbe by Ann McMahon Quintero. The pair look like they are having a great deal of fun making the sisters just as humorously despicable as possible, but these are nevertheless carefully crafted roles, well suited to the overall mood and energy of the production.
Simone Alberghini plays Dandini, the Prince's valet, who swaps roles with the Prince to allow the real Royal the freedom to assess the marriagiablilty of the sisters undetected. Alberghini sings well and acts with energy, but seems to lack conviction in the role. Though he never misses a step or a note, he doesn't quite convey the zany feel of this '50s madness, coming across as a 19th century valet and confidante to the Prince, not the modern working man of the 20th century.
STRIP SOME TAGS LA CENERENTOLA
By Gioacchio Rossini
Conducted by Riccardo Frizza
Starring Sonia Ganassi
The Washington National Opera in the Kennedy Center Opera House
4/15, 18, 20 & 22
202-295-2400
www.dc-opera.org

Similarly, the Prince, sung by tenor Jesus Garcia (except on April 9 and 10, when the role will be sung by Robert McPherson), seems like a fish out of water. His presence is much like his voice — elegant, unruffled, graceful. He's regal in bearing, but not quite a match with the almost earthy tones of Ganassi and the noisy and robust goings-on in the Magnifico household. Yes, the Prince has to be princely, but in this rendition, he needs a bit of humor.
For those of you paying attention, some local gay talent appear as extras — known in the opera world as supernumeraries. Changing costumes and personas throughout the opera, these non-speaking performers fill out the crowd scenes and even get to appear in elegant drag in the final scene. Look closely: do you know that man in the cat-glasses?