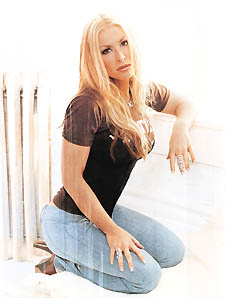 Anastacia
ANASTACIA'S ALLEGED USE OF SCIENCEÂ… Singer Anastacia has been far more successful in Europe than in her native America, where few know of her beyond dance-pop devotees and gay barflies — and that's largely just one overlapping audience. Her third album, Anastacia — and her first since battling breast cancer over the past year — was released internationally at the end of last month, but there's still no set release date for the U.S. In all probability it will depend on how well the first single, "Left Outside Alone," fares. And that's where this tale gets interesting.
Anastacia's American handlers crave a true Billboard Hot 100 chart hit — and not just her usual dance chart-topper. And technology is quickly advancing to aid them in that quest. But are they using technology to create a hit for Anastacia? The New York Times reported last month on conflicting reports as to whether Anastacia used the Hit Song Science software from Barcelona-based "artificial intelligence" company PolyphonicHMI. Hit Song Science, according to the paper, assigns each song it analyzes a value, constructed from a complex mathematical formula derived from more than 20 components, including tempo, rhythm and cadence, of all songs released in the U.S. in the past 50 years. With a particular emphasis on those songs that charted in the top 30 of Billboard's Hot 100 chart in just the past five years, PolyphonicHMI then identified 55 "hit song clusters," which any new song can be judged against. The closer a song lands to the center of a hit cluster, the more likely it is to be a successful song, a hit, goes the theory.
The naturally controversial technology is being used in the industry, the Times reports, though because it in essence deduces creativity to a mere equation no one wants to cop to using it. A producer who worked on Anastacia's "Left Outside Alone" told the Times he uses Hit Song Science, but he wouldn't say if he did it for that song. And her publicists adamantly denied the artist used the software "now or in the future." In any case, the song is firmly lodged at the top of the U.K. and the European charts, along with her album. Because it was only released in the U.S. two weeks ago, it's far too early to assess its success hereÂ…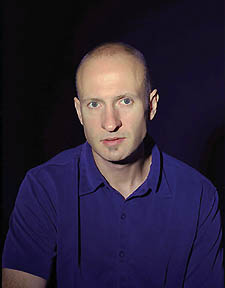 Mould
SEASON OF MUSICAL BENEFITSÂ… D.C.'s very own DJ and multi-genre recording artist Bob Mould will spin and perform at a benefit for gay marriage in New York this coming Wednesday, April 28. This Freedom to Marry rock benefit at the recently opened Crobar nightclub will feature performances from Mould, Le Tigre and Sleater-Kinney, and comedy and chatter from Sandra Bernhard, Margaret Cho, Alan Cumming and John Cameron Mitchell, who the New York Post reported may actually marry a gay couple or two. You see, the actor/filmmaker is also a minister in the Universal Life Church, the newspaper reported. Mitchell will spin along with Mould at the benefit's after-party, according to www.freedomtomarry.org.
Closer to home is this Sunday's March for Women's Lives, a pro-choice event on the Mall that has been endorsed by a slew of gay and gay-friendly entertainers, and may feature performances from a few of them. Though by press time organizers had not announced who will perform, a quick glance at artists' calendars suggests Indigo Girls, Ani DiFranco, Moby and Alanis Morisette are possible. See www.marchforwomen.org for more up-to-date information.
And while we're on the subject of benefits, Quincy Jones is organizing one in Rome in May that will raise money for children in war-ravaged parts of the world, including Ethopia, Sierra Leone and Afghanistan. It's being billed the We Are the Future campaign, an obvious successor to Jones' 1985 "We Are The World" benefit. The children are the future here, not the artists set to perform — that is, excepting for Alicia Keys, Josh Groban and Usher. It's churlish to say, but also truthful, that Lionel Richie and Herbie Hancock are definitely not music's future. Neither, to our way of thinking, are other announced performers, including LL Cool J and Natalie ColeÂ…
ELECTION-YEAR POLITICAL POPÂ… Expect to hear more political pop beyond benefit events from Le Tigre and Ani DiFranco. The two feminist acts are, in their own way, hoping to stir up liberal politics in an election year. The dance-pop trio Le Tigre is, in a sense, shedding its indie roots. After two albums on teeny-tiny Mr. Lady Records, the women are expected to release their third full-length set in late summer on an imprint of major label Universal. The album is likely to include two tracks recorded with producer Ric Ocasek, best known for '80s group The Cars. Billboard reports other tracks are being engineered by Nick Sansano, best known for his work with Sonic Youth. Le Tigre is may also join the bill of the popular national Lollapalooza tour. DiFranco, meanwhile, is considering organizing a tour of political swing states just before the presidential election, she told Billboard. The magazine calls DiFranco one of the most visible success stories in the world of independent music. Currently on tour to promote her latest release, Educated Guess, DiFranco is already at work on a follow-up album, which in theory could be released in advance of a fall tour of swing states. "I want to really be focused this coming fall on the election," she saysÂ…
-30-