"I'm getting to do plays about behavior and character, " says director Michael Kahn of his work on Five by Tenn. "Five different moods, five different ways of Tennessee's writing. And four of them have never been seen. They're discovered plays. "
The evening is a collaborative production between The Shakespeare Theatre — for which Kahn serves as artistic director — and the Kennedy Center, which this month kicks off its three-month "Tennessee Williams Explored " series, including new productions of the playwright's most popular classics — A Street Named Desire, Cat on a Hot Tin Roof and The Glass Menagerie.
Five By Tenn offers an opportunity to see the only overtly gay play Williams ever penned — And Tell Sad Stories of the Death of Queens. "It's the only play that I know of where the characters are gay, " remarks Kahn. If the director has a favorite among the five short works, he won't tell, but he does note that I Can't Imagine Tomorrow, which was written for PBS and produced on television but not in the theatre, is "just an absolute masterpiece. "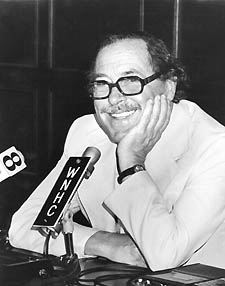 Tennessee Williams
Kahn is extremely well-versed in Williams, having directed, among others, the Broadway revival of Cat in 1974, on which he worked directly with the legendary playwright in revising the third act.
"I was so in awe of him, " recalls Kahn. "He was very funny and charming and could be sort of shy. And I felt very much accepted by the great playwright of our time as a director. "
Kahn is clear on one thing: "I believe Williams and Eugene O'Neill are the greatest playwrights America's produced. First of all, you have simply extraordinary language. And you have incredible characterization. Nobody has written characters as indelible and rich as Tennessee. When you think of them, you think of them not as characters from their own time, you think of them as great universal characters. And I think that's why they will never not do Tennessee in any country in the world. "
Five by Tenn plays through May 9 at the Kennedy Center Terrace Theatre. Tickets are $35-$60. Call 202-467-4600.