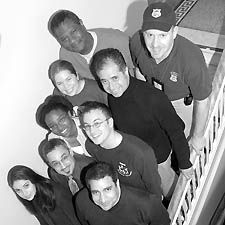 Youth Pride Alliance organizers
and volunteers
Mission: To provide a safe space for LGBT youth, including organizing the annual Youth Pride Day celebration.
Founded: 1997
Members: Approximately 200
How to Join: To join the group's listserv visit their web site at www.youthpridedc.org. To join the planning committee for Youth Pride Week, attend one of the planning meetings.
Background: Youth Pride Week Director Paul Marengo says the goal of this year's event is "to make sure youth issues are not passed over," and in a politically charged year such as this it is important that youth have their voices heard. "This is the only event in the regionÂ…like this," he says. Organizing the week of events can be demanding, but Marengo says the results are worth it: "It's great when you get youth coming up to you saying they had a good time."
Contact: E-mail youthpride@youthpridedc.org for more info.
Next Event: Youth Pride Week events begin on Friday, April 16 and culminate on Saturday, April 24 with the Youth Pride Day festival from noon to 5:30 p.m. at the Rock Creek Park, 23rd & P Streets NW.