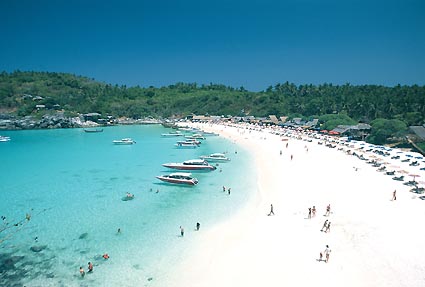 Balmy weather: One of Phuket's many beaches
Whether you go east or west from Washington, you'll travel through twelve time zones to get to Thailand — and it's still further away than you think. But with some of the planet's most hospitable people, breathtaking tropical vistas, sumptuous cuisine, and rock-bottom prices, travelers from around the world recognize this country's unique allure. Despite bird flu, SARS and Islamist violence in the southernmost provinces, Thailand remains a prime tourist destination. In fact, the list of negatives will need to get much longer to knock Thailand off its tourist perch.
Regardless of your flight plan, expect a trip of about 25 hours. Once there, the first order is to recuperate, which the Thai economy makes easy to do. While the exchange rates in Western Europe have a way of pushing American tourists toward public transportation, the dollar-to-baht exchange encourages foregoing the bus, train or taxi to hire a sedan to take you from the airport.
With transportation taken care of, the only real choice to make is whether to check in at a hotel that caters to gay tourists, or at one of Bangkok's several affordable, world-class, five-star hotels. The readers of Travel and Leisure magazine, for example, ranked the Peninsula Bangkok hotel as the best in the world for 2004. For rates starting at less than $150 per night for a standard room, Bangkok's going rates put the best in the world well within reach.
White-linen room service is followed by deep, deep sleep. Then it's a glorious sunrise over Siam and a day in Bangkok. If you don't have a specific tourist-site agenda, try shopping. Bangkok is making an effort to redefine itself as "Fashion City" and the smart malls are packed with original, creative, inexpensive clothing for men and women.
The main tourist destination in Bangkok is the Royal Palace — no shorts, no open-toed shoes. But a visit to the palace cannot compare with simply walking the streets of Bankok. Stopping at a salon in the trendy student area around Siam Square is a cultural experience — why sit for a shampoo when you can lay down, your head dangling over the edge of the table and into the sink? Standard procedure is shampoo, rinse, repeat, condition, rinse, and haircut, followed by a trip back to the shampoo bed for more shampoo, rinse, repeat, and a quick scalp massage. If the place is upscale, expect to pay about $12, including tip.
The gay scene is always jumping and most gay bars are centered in the Silom area of downtown, easily accessible by the city's comfortable Sky Train, an elevated public transport that glides over the crowds. For a city of about six million people, the main gay area is amazingly compact. Bars and clubs run into one another on a couple of alleys and the density of the layout actually makes the city seem rather cozy.
Unless traveling for business, Bangkok is not usually a destination in and of itself. Tourists head for the beach. For GLBT travelers, two stand out: Pattaya and Patong.
Pattaya is about ninety minutes from Bangkok by car. It has a reputation for hedonism, Russian package tours, and its "Boyztown" gay area. "Throb" and "Splash," a couple of gay nightclubs hint at the flavor of Pattaya. For this trip, however, we headed south instead to Phuket, Thailand's largest island. Sitting just off the west coast in the Andaman Sea, the island's main beach, Patong, ranks among Planet Out's top ten gay beaches.
Make no mistake — Patong is not South Beach. Walking the main drag, you're more likely to run into packs of elderly straight Scandinavian couples, or college-age Kuwaiti guys with lots of money to throw at young Thai women, than "family." Nevertheless, if you know where to look, Patong is very gay. The scene is centered not on the beach itself, but a couple blocks inland at the Paradise Complex, which, keeping with that cozy Thai style, is not much more than two alleys that sit in the shadow of the high-rise Paradise Hotel.
Though tiny, this gay ghetto is like a little bit of New Orleans with Mardi Gras every night. The complex features a number of single-car-garage-sized bars, guest houses, massage parlors, restaurants, nightclubs, and a couple anchor establishments that hold the mélange together.
Ulf Mikaelsson owns one of these anchors, Connect Guesthouse. Mikaelsson, a Swede, opened Connect in 1998 and most gay visitors to Patong pass through his door. Aside from the guesthouse, Connect offers an Internet café, a restaurant and a bar. And Mikaelsson runs the gaypatong.com Web site. Connect's most notable offering, however, is a day trip to two tiny islands near Phuket.
Each Saturday, a mostly-gay crowd sets out from Connect for a day in the sun. Two boatloads of tourists, along with some Connect staff, splash around before eating a Thai barbeque (everything on a skewer) lunch. The finale, sometimes, is a casual drag show on the beach. There is no lip-synching, but there are a few guys keeping the beat in Priscilla-lite drag.
Phuket's recurrent drag theme may be related to the fact that the island is a popular destination for gender-reassignment surgery — male to female for about $7,000. But there are a number of procedures that have made Phuket a popular medical-tourism destination, from teeth whitening to liposuction.
Local gay Thais may also try to offer "services," so it's best to be aware of etiquette. Prostitution is illegal in Thailand, but it's a fuzzy line. Don't be surprised to walk into a gay bar in Patong, or anywhere else in Thailand, and see a group of young men swaying onstage with numbers on their Speedos. If you want to socialize with them, the bar manager arranges it for a fee. Dancers may be a bit aggressive if you're near the stage.
Chiang Mai, in the middle of mountainous green jungles, offers cooler temperatures than Bangkok or Phuket. While much smaller in scale than Bangkok, it still manages a level of congestion and pollution that can be intimidating.
Many people actually come to Chiang Mai just to get out of it: The city is a hub for operators organizing "treks" into the surrounding jungles. These treks last from one day to several. Even the shortest trek can find you on an elephant, hiking in the mountains, and rafting downstream on a few sticks of bamboo.
In town, this ancient capital offers a nightly market for all the bargain shopping a tourist can stand. The Night Bazaar opens at sunset and shoppers shuffle down blocks of sidewalks with hawkers on either side. The bazaar is tight and it is crowded (claustrophobes and agoraphobes, you have been warned). And it's incredibly cheap. Big sellers are silk, mango wood and kitsch. Haggling is the rule.
The gay scene in Chiang Mai seems to cater less to tourists than to resident Westerners and locals. The tourists in Chiang Mai are generally a different sort than you'll find at the beaches. It's the difference between Ft. Lauderdale and Philadelphia. Chiang Mai is a college town with an eco-friendly sensibility. With its jungles and antiquities, it's where Indiana Jones might go on vacation.
For additional information on Thailand, visit Dreaded Ned's Gay Thailand at www.dreadedned.com, Thai Guys magazine at www.thaiguys.org and Utopia Tours at www.utopia-tours.com/uthai.htm.