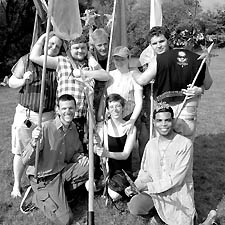 Radical Faeries
Mission: A community-based organization of men and women who explore queer spirituality and promote an understanding of Earth-based religions and interfaith cooperation.
Founded: 1997
Number of Members: Approximately 150
How to Join: Simply show up to one of the group's weekly Pot Lucks. There are no annual dues but donations are accepted.
Background: "Radical doesn't necessarily mean in-your-face," says Eric Eldritch, one of the group's organizers. "It means at the root of…queer spirituality." Eldritch says he found out about the group from a couple of his friends. "I found that putting sexuality and spirituality together was very important to me." Eldritch says the Radical Faeries can help people to be true to their identity and "feel unfettered and free in exploring the spirituality of being queer."
Contact: Visit the group's web site at www.dcradfeys.org for more information.
Next Event: Weekly potluck at N Street Village, 14th and N Street NW, on Monday May 17. The potluck is from 7 p.m. to 9 p.m. and is open to all.