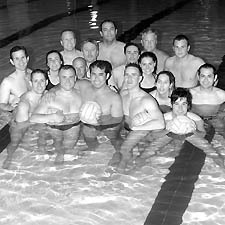 Washington Wetskins
Mission: The Wetskins are a water polo team dedicated to creating an environment in which the sport can be played regardless of sexual orientation.
Founded: 1985
Number of Members: Approximately 50
How to Join: Visit the web site at www.wetskins.org or simply show up to one of the team's practices. Dues are $30 a month or $75 a quarter.
Background: Tom Woodruff, treasurer for the Wetskins, says a friend first introduced him to the team. "I had never played before in my life — I just showed up to practice one night." Although learning was at times challenging, he says ultimately it was really fun. Woodruff says playing water polo is not only a source of exercise for him but also a great social experience — tournaments, such as the one at the Gay Games, are "community activities." After nine years of perfecting his skills he says, "Water polo has been a positive experience."
Contact: Call Tom at 703-465-8144 or secretary@wetskins.org.
Next Event: The team practices every Tuesday and Thursday at 8 p.m. in the Marie Reed Recreation Center Pool, 2200 Champlain Street NW.