"Obviously these people are dead and we'll never be able to ask them questions, " says Ashley Judd, who portrays Linda Porter in the new biopic about gay composer Cole Porter, De-Lovely. "But my understanding from everything I've readÂ…was that [the Porters] had a very nurturing and mutually fulfilling relationship. I think that that's what people genuinely want and need in their lives."
Directed by Irwin Winkler (Guilty by Suspicion), De-Lovely seeks to set the record straight, so to speak, about one of pop music's greatest songwriters. De-Lovely doesn't shy away from depicting the Porters' marriage in all its nearly sexless and non-monogamous complexity (Porter remained with Linda for 35 years, all the while carrying on dalliances with other men). Linda was elegant and haughty, Cole was a meticulous musician who spared no one his perfectionistic wrath. They hit it off because both loved music and the glamorous lifestyle they led, first in Paris, where they met, and later in Hollywood.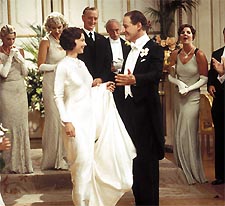 "To be known, and to be authentically accepted for who they are — I think that that can surpass sex, " says Judd. Though it's not shown in the film, Linda was badly abused by her first husband. "It was probably somewhat of a relief to be with a man who didn't want sex from her, " says Judd. And for the composer, Linda was a "high-class enabler, " the inspiration for his music and a steadfast supporter. Porter never considered a song complete until it Linda gave her approval. And shortly after she died, he stopped writing altogether, turning increasingly bitter about life.
Judd is convinced that the marriage wasn't just a front, or one of convenience.
"Thirty-five years? I think convenience gets old. It's hard enough being married to someone who you love. Why would you stay in it if you didn't? "
De-Lovely opens on Friday, July 2 in area theaters.