"The first Pride I recall was on 17th and New Hampshire," says Ella Fitzgerald. "It was a block party in 1975 and I got to perform. Donna Summer had just released 'Bad Girls' and I remember doing that song in a blonde wig, a sun visor that lit up, purple stretch pants and a sequined top."
Ella's moved way up the glamour ladder — she now dons extravagant costumes with lavish plumes, an abundance of rhinestones, and feathers, feathers, feathers galore — but the Doyenne of D.C. Drag hasn't missed a Pride since. "Well only one," she admits. "It was 1984 and I was working in Provincetown that summer."
This year's event will mark the 28th Pride appearance for the popular Ziegfeld's star. It has become as much a tradition to watch her captivate a crowd during her mainstage performance ("This year I'm doing a dramatic ballad that has great meaning for me personally") as it has to catch one of the bananas Ella flings from her limousine during the parade.
"That banana thing started back in 1993," recalls Ella. "I told Alan Carroll [a co-owner of Ziegfeld's] that I was hungry for something. So he goes into the Safeway on 17th Street and brings out a half a bushel of bananas. Well, I'm not gonna eat all those, so I just started peeling them and throwing them out to the queens." These days the bananas are loaded into the limo before the parade steps off. "We go through about sixty of them," she says. And how many does she eat? "Not even one. Because it messes up my lipstick."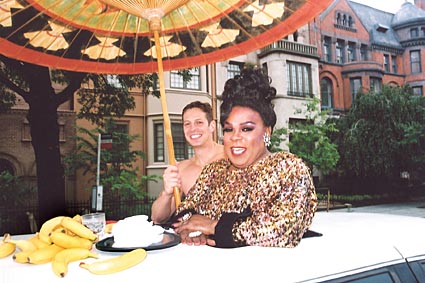 Ella Fitzgerald at the 2003 Capital Pride Parade
(Photo by Michael Wichita)
Ella — who won't reveal her age ("I've been around since dust, diamond dust") — becomes uncharacteristically wistful when it comes to Pride.
"When I look at how many people I made smile or put their hands on the air during my performance," she says, "I'm touched. But, you know, darling, it doesn't affect me until later, when I'm home and all the weekend's hard work is done."
What's on your nightstand?
Well, I'll just walk back here and tell you. My alarm clock, of course. A dainty lamp. A box of Kleenex. One condom. A turquoise bow and a cha-cha box that has extra condoms in it. And a little dish of potpourri.
What's in your nightstand drawer?
A Holy Bible. And my sewing machine is on the bottom.
What are your television favorites?
American Idol, Queer as Folk and The Price is Right. I love that show so much, honey!
What was your favorite cartoon when you were a kid?
I really wasn't allowed to watch TV when I was kid. I grew up on a farm [in Warrenton, Virginia]. But my favorite funny TV shows were the Three Stooges and The Little Rascals.
If you could be any superhero who would you choose to be?
Catwoman. Just to lay around and meow.
Who's your greatest influence?
Maya Angelou. She's a really fascinating individual.
What's your greatest fear?
The ocean, because I can't swim.
Who gets on your nerves?
No one, because I don't allow them to.
Pick three people, living or dead, who you think would make the most fascinating dinner guests imaginable.
Bette Midler, Oprah Winfrey and Bill Clinton.
What would you serve?
Obviously, caviar, darling. Caviar, champagne and some pig's feet.
Boxers, briefs or other?
I wear it all.
Favorite retail store?
Now you know better than to ask me something like that. You know what I'm doin' right now? I'm heatin' up a biscuit from KFC.
I'm confused, KFC is your favorite retail store?
No, darling, Tar-jaay!
Describe your dream guy.
Blonde, blue eyes, 6'1″, semi-built, I like 'em husky, I like 'em thick. I want a man, I don't want no boy. And please tell him to hurry up.
Define good in bed.
Asleep.
What's your most unusual make-out locale?
In the parking lot of Badlands in 1993. It's unusual for me because I don't give all that in public. I'm very shy.
Who should star in a movie about your life?
Vickii Vox. She's been my friend and drag daughter for 21Â  years.
Who was your first celebrity crush?
Tom Jones. Remember him? He was like, ummmm! Oh, he used to make me hot!
If your house were burning, what's the first thing you would grab while leaving?
Only one? Can I take two? My Louis Vuitton and my makeup kit.
What position do you play in the big baseball game of life?
Pitcher. Don't let the sequins or the eyelashes fool you — they're just an illusion. It's true, I'm a top.
What's the most you'll spend on a drag outfit?
$500.
On a pair of shoes?
$200.
What's your dream job?
To be in Hollywood doing hair and makeup for the stars. I'd love to be Oprah's make-up artist. I'm also ready to make a movie. Or write a book.
What do you regret most?
That I never had a chance to go to college. I really wanted to, but I was a poor white woman trapped in a black girl's body working on a farm.
What would you change about the gay club scene?
Definitely the drugs. It's way out of control. The young generation, I don't know what they're thinking. I'm scared for them. Why not take that energy and do something more constructive?
What kind of animal would you be?
A bird, so I could fly, fly, fly away.
What kind of plant would you be?
Something that stays around a long time. An oak tree.
State your life philosophy in ten words or less.
Live, my dears, live. For tomorrow is another day.
What gives you pride?
Love, humanity, integrity and friendship.
Ella Fitzgerald is scheduled to perform Sunday, June 13, at approximately 2:11 p.m. at the Capital Pride Street Festival Mainstage located on Pennsylvania Avenue at 3rd Street NW. Schedule is subject to change. For more information visit www.capitalpride.org. For more information about Ella Fitzgerald, visit http://members.bellatlantic.net/%7Evze3kpg7/