"If you can dodge a wrench, you can dodge a ball," barks professional dodgeball champ Patches O'Houlihan as he proceeds to fling wrenches at a gathered band of hapless losers. It's not long before all six are lying on the ground writhing in heavy-metal induced pain.
And we laugh. We laugh our guts out.
Because people getting hit with things is funny, especially in the movies. Such is the genius behind Dodgeball: A True Underdog Story, a lively, loopy comedy that pushes all the right entertainment buttons.
Written and directed by Rawson Marshall Thurber, Dodgeball keeps us fitfully amused, making no bones about its overall lack of comic finesse. It's a sophomoric, broad-strokes farce, one with likeable characters and an abundance of heart, not to mentions wrenches to the head and balls to the groin.
The set up for all the dodge balling that ensues is this: Peter La Fleur (Vince Vaughn) must raise $50,000 to prevent losing his low-rent gym to the neighboring multi-million dollar workout emporium Globo Gym, owned by the obnoxious, sexist and dumb-as-a-post White Goodman (Ben Stiller, sporting out-of-control '80s hair, a badly trimmed handlebar and silver spandex shorts with an inflatable crotch). "I have shareholders," White says to Peter. "You don't even have cupholders."
To raise the money, Peter and a loyal group of customers — including an clumsy teen (Justin Long), an obscure sports enthusiast (Stephen Root) and a guy who thinks he's a pirate (Alan Tudyk) — enter a Dodgeball tournament in Vegas. They're fortunate to be coached by the aforementioned Patches, who instructs them in the Five Ds of Dodgeball — "Dodge, Dip, Duck, Dive and Dodge" — and provides for them a team motto — "Aim Low."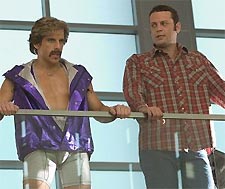 Stiller and Vaughn
Miraculously, the team makes it to the finals, where they must confront White's steroid-pumped Purple Cobras. The tourney play is given an extra dash of comic pizzazz by color commentators Cotton McKnight (Gary Cole) and former Dodgeball champ Pepper Brooks (Jason Bateman, in a hilarious Fred Willard-worthy turn), broadcasting for ESPN8 ("If it's almost a sport, we've got it here!").
There are some deliriously funny moments in Dodgeball, including one in which White comes on to Kate Veatch (Christine Taylor), the attorney handling his acquisition of Peter's gym, and a crackerjack lampoon of a high school instructional film from the '50s, which features Hank Azaria in a sterling turn as the young Patches.
Vaughn handles the straight man role adroitly enough, but he's a little too low-key. He barely registers on screen. No matter, Stiller more than makes up for it. He's on full overdrive here, and his uproarious performance absolves his involvement in Starsky and Hutch. Rip Torn continues to be an asset to any movie in receipt of his brusque, bullying manner. Taylor very nearly overcomes her distracting resemblance to Maureen McCormick's Marcia Brady, delivering a few knock out moments, though it must be noted that she seems to appear only in movies produced by hubby Stiller.
DODGEBALL
Starring Ben Stiller, Vince Vaughn, Justin Long and Stephen Root
Rated PG-13
97 Minutes
Area Theaters


Long, one of the survivors of television's Ed, makes an appealing, funny geek (he has a calamitous moment early on with an overweight cheerleader that has to be seen to be believed), while Root offers up his usual daffiness. The biggest laughs hail from Tudyk, however, whose mildly demented Steve the Pirate takes the exclamation "Yaarrrr" and runs rampant with it.
Dodgeball took the box office by surprise last weekend, clobbering the Steven Spielberg-Tom Hanks big ticket The Terminal. It did so because it delivered on its promise of giddy, mindless fun and the sight of people getting bonked with wrenches, balls, all sorts of things. True to its title, Dodgeball arrived in theaters a true underdog and emerged — deservedly — a champ.