One of the most memorable, exquisite moments in post-classical theater is the bittersweet serenading of Roxane by her witty wordsmith cousin, Cyrano de Bergerac. The bright, round moon, the docile ingénue who feasts upon poetry from her balcony doors, the handsome young cadet reciting sumptuous professions of love borrowed from the eponymous hero in the shadows — all factors portend that single profound, heart-wrenching monologue delivered in earnest by our tragic protagonist, one of the greatest literary poets and most formidable swordsmen in all of Paris. It's a beloved, lofty scene filled with great expectations.
And Michael Kahn's production of Cyrano does not disappoint.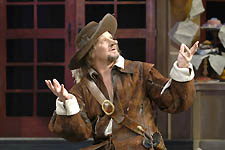 Nosing around: Wyn Davies
On the contrary, it sweeps, it swells, it soars beyond the highest anticipations and never once does it sway from exhibiting everything that good theater should possess: a clever, sophisticated script brimming with hearty, poetic language, classic characters who at once define and defy stereotype, and a universal story that connects romance with reality, self-love with self-loathing.
Barry Kornhauser was first commissioned to adapt Cyrano in 2000 for the Fulton Opera House, and after a few minor revisions at Kahn's request, he has crafted a remarkable version of what is arguably one of the greatest romances of all time. Unlike other interpretations, this Cyrano retains Edmond Rostand's original ideas and rich dialogue. But Kornhauser employs daft English poetry coupled with luxuriously lyrical rhyming schemes that are also reminiscent of common, downtown street prose. Kornhauser's personal love of language is evident in his masterful writing and witty wordplay that features a mere dash of late twentieth-century jests (his Cyrano taunts a stout actor to "Make like the round moon you are and eclipse "), and the reward in his straightforward, linguistic approach to such a well-known text is one riveting adaptation that is not to be missed.
The true hero of the evening is Kahn. His Cyrano is a romantic, gorgeous evening that is almost too beautiful to articulate. Kahn's sprightly sense of humor is ubiquitously present, but it is his skillful, deliberate direction that evokes a rather heavy emotional investment for such a rollicking comedy. He is a brilliant maestro of the stage, carefully orchestrating lovely, aesthetically-moving scenes that demonstrate a cerebral appreciation for fine detail and grand symbolism.
Geraint Wyn Davies' Cyrano has all of the vivacity, the verve, indeed, the panache — that makes our man of great punditry so loveable and distinctly human. Davies is perfectly sublime as the unlikely intellectual whose iconic nose has come to represent his indomitable pride, nobility, and internal humility. Davies' performance is thrilling as the honorable, adventurous lover who believes that enemies are a great cure for ennui. A stronger Cyrano we may never know.
Davies is joined by good company: Gregory Wooddell's Christian is a comely soldier full of sincere emotion and gratitude toward his erudite comrade, and although she is written with the potential to be a contemptible creature, Claire Lautier is a pleasant Roxane, the scholarly-smitten object of Cyrano's affection. David Sabin also provides plenty of his signature comedy as the "cake maker " Ragueneau, a fellow poet who runs the local pâtisserie.
Cyrano
Through 8/1
The Shakespeare Theatre
450 Seventh St. NW
$16-$66
202-547-1122

Robert Perdziola's magnificent costumes are the perfect complement to James Noone's splendid set design, which runs the gamut from Ragueneau's quaint pastry shop to Roxane's peacock-colored provincial house to a sprawling French countryside.
Kornhauser's contemporary adaptation vividly displays all elements of fantastic theater: the swashbuckling superhero, the heartbreak of unrequited love, a tempestuous European war, powerful emotional drama, and authentic, truly fun comedy. But above all, it has panache.