John Epperson has a revelation to share.
"I'm ready to shed the character of Lypsinka," he says of the drag alter-ego he's been portraying since the early '80s. " I'm not ready to retire Lypsinka completely, because I enjoy doing it. But I thought it's time I came out of my cocoon and did a show about myself.'"
The resulting evening — Show Trash — is receiving its theatrical debut this week at The Studio Theatre, running in rep with Epperson's latest Lypsinka masterwork, As I Lay Lip-Synching.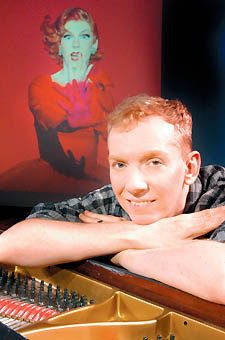 Epperson
"It's called Show Trash because I'm compelled to be in show business," he says in a refined Mississippi drawl. "You've heard of circus trash? I'm show trash."
The cabaret-style evening — complete with piano (Epperson once served as the rehearsal pianist for the American Ballet Theater) and Epperson's own singing voice — was spurred by a desire to prove that he can do more than precisely mouth the words to torch songs and carefully-selected bits of dialogue from old movies (though it must be noted that his masterful lip-synching abilities are akin to an athletic event).
"The public and the people in the business don't know that I can do anything else," he says.
Epperson is also a budding playwright, and My Deah, his Southern gothic skewering of Euripides's Medea will have a staged reading next Monday, June 21, at Studio, with proceeds benefiting Whitman-Walker.
"It's a comedy that turns tragic in the middle," he says. "She still kills the kids in the middle." The play has been getting good buzz, and readings in other cities have been helmed by such theatre luminaries as Patti Lupone and Betty Buckley.
Is Epperson concerned that people may only want Lypsinka from him?
"I am certainly aware that people will be reluctant to believe that I have any other abilities," he says, "but that's not unusual. Everyone gets pigeonholed in show business." — Randy Shulman
Show Trash continues through June 20 with additional performances on June 27 and July 2. Lypsinka! As I Lay Lip-Synching plays June 26 through July 4. For tickets and pricing visit studiotheatre.org or call 202-332-3300.