She's been accused of any number of things, given her A.D.D.-style of skipping from one musical genre to another — as well as her sly demeanor and provocative persuasions. But with her latest album, the just-released Hymns of the 49th Parallel, k.d. lang stands accused as yet something new: a hallelujah habituate.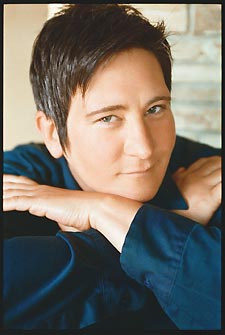 lang
The artist stirs up a bad case of the Amen blues in the listener, and that's all to the good. If you grew up going to church admiring the repertoire of standard hymns played on piano (or better yet, the pipe organ), then you understand the understated charm of the church hymn. And if you feel less than welcome now at your childhood church, and maybe just a bit turned off by the whole religion thing — well, lang's latest will make you believe all over again. It'll move you something fierce. It'll move you to tears of joy, rejoicing at how marvelous music can be. Come all ye faithless, appreciate secular music that sounds sacred. The beauty is that it isn't.
According to lang, Hymns was a long time in the making. It was inspired by her 2002 album A Wonderful World, where she dueted with Tony Bennett in covering pop standards identified with Louis Armstrong. The set earned her a fourth Grammy, after nods for her early contentious country phase and later her more-natural adult-contemporary pop phase. But more than this, the thorough American-ness of that project inspired lang to create an all-Canadian songbook. "While countless artists have put forth versions of American standards, " she says in the album's press notes, "the lineage of Canadian songwriters has been all but overlooked. "
"Oh Canada," goes one line of Joni Mitchell's "Case of You, " "You are in my blood like holy wine/You're so bitter and so sweet/I could drink a case of you. " And so lang does, reworking her contenders for a Canadian songbook, songs by the giants Mitchell, Neil Young and Leonard Cohen as well as the up-and-comers Ron Sexsmith, Jane Siberry, and Bruce Cockburn.
She slows down and savors every song, surrounding them with grand fortresses of moody orchestration and capping them off with her gorgeous alto. And she redeems some of them, such as Mitchell's "Case of You " and especially Neil Young's "After the Gold Rush."
Much of the music is chilly, either in feeling or intent. And it does err a bit in being too uniform in somber sentiment — losing much of its power in the second half, which becomes a bit too risk-averse adult-contemporary. Still, all in all, it's a stately, reverential, out-and-out phenomenal piece of work. It peaks where it should, in the middle, when lang covers Cohen's "Hallelujah." It's hard to imagine anyone failing when covering Cohen's song — it's one of the best songs of any genre to have ever been written, period. "Hallelujah " is built on a hauntingly gorgeous melody and aching, stark orchestration. But it's framed by devastating lyrics and a passionate vocal delivery. lang's version, in particular, draws out the pain, as she lingers over the lyrics contemplating life's mysteries and human failing. "Maybe there's a God above, " she begins the last, most poignant verse. "But all I ever learned from love, was how to shoot at somebody who outdrew youÂ… It's a cold and it's a broken Hallelujah. "
Cold, broken and strange it is. Like life itself.
Hallelujah.
Amen.