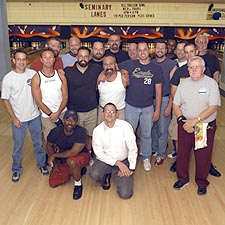 Capital Area Rainbowlers
Mission: CARA is an association of GLBT bowling leagues that offers both bowling and social events.
Founded: 1994
Number of Members: More than 500 bowl in winter leagues, while nearly 200 bowl in summer leagues.
How to join: Winter leagues are forming now, and interested bowlers of all skill levels can visit the group's web site for information on how to register.
Background: CARA president James "Hawk" Crutchfield has been bowling with gay leagues for 20 years, and has been a board member and officer for CARA since its inception. "I believe in the sport of bowling," he says of his involvement. "I also believe in anything that brings the community together." While facilitating leagues is a primary goal, creating opportunities for beginning bowlers is also a top priority, as well as providing that sense of community. "Of the people I've had longest for friends, most of them have come from bowling."
Contact: For information visit the web site at www.carabowling.org or e-mail bowlhawk@erols.com
Next event: Registration starts soon for winter leagues — visit the web site for information on how to join. CARA also hosts competitions, including October's Celebrity Halloween Invitational Tournament (CHIT).