For a profession that's all about telling stories with words, newspaper writing can be an awfully dull business when it comes to reading it. Sure, the facts can be interesting and important in and of themselves, but it's too rare to find the journalist who can make the words the sentences as vibrant as the subjects they highlight.
While no one expects a report on, say, local zoning board meetings to fill the page with playful puns and delightful metaphors (though lord knows some have tried), when it comes to reporting the truth at the heart of less newsy news, the words have to live up to the subject at hand.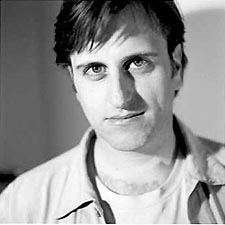 Stuever
Washington Post Style writer Hank Stuever has built a reputation for just that talent as he chronicles the lives (and sometimes deaths) of the famous, infamous and everyday people of D.C. and the nation. His new book, Off Ramp: Adventures and Heartache in the American Elsewhere, collects some of his best work at the Post, as well as from his stints as a reporter in Albuquerque, N.M., and Austin, Tex.
Off Ramp is a compilation of stories from what Stuever calls his beat: "It started out as a private list I taped next to my computer, in my newsroom cubicle, for several years: I put 'false cities' on my beat, which meant airports, the Best Buy, bland buildings. I put 'things kept in shoeboxes in spare closets' on my beat. I claimed 'teenagers who don't help out the community' for my own. "
On the surface, it sounds dangerously over-precious — the kind of thing a young journalist with too many Cure concert t-shirts might outline as a meaningful career. But Stuever delivers on the promise with insightful and arresting portraits of Americans too few people ever see.
Off Ramp
By Hank Stuever
Henry Holt

While Stuever's writings on his own life as a gay man will grab the interest of many "family " fans — his piece "Wonder Woman's Powers " strikes chords with every gay man of a certain age who ever twirled and twirled and twirled with images of bracelets and golden lassos in their heads — the standout parts of Off Ramp are those that range far afield from the world of gay.
"Modern Bride " traces the path of a Hispanic family in Albuquerque as they plan and implement a wedding. In the process it covers everything from love story to family history to socio-economic primer — without delving into the world of sledgehammer preachiness. In "All Faiths, " the story of a low-cost funeral home business in Austin, Stuever neatly balances the macabre humor with a respect for the dignity of his subjects that's all too lacking in the overly-ironic work of other self-described chroniclers of American by-ways.
Simply put, Off Ramp is a trip worth taking.