Remember when you couldn't stop listening to George Michael? Maybe you don't. It's been a good six years after all since he received much airplay for his appealing song "Outside, " and its even better video, both sending up his "outing " as a man seeking sex in a public bathroom.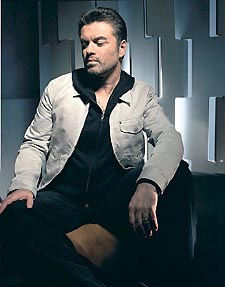 George Michael
It's easy — too easy — to blame the lack of attention since then on homophobia. Even if that were the only factor, it in no way excuses Michael from his lackluster work since, which has reached its nadir with Patience.
The title assumes that his one-time admirers hunger for his return, fueled by Michael's abundant self-regard. "I would like to thank the most patient audience in the history of pop music, " he waxes hyperbolic in his liner notes. But really what we hunger for is a peppier "Volume 2 " of his crowning achievement, Listen Without Prejudice, Volume 1. And we're left to wait for it, now possibly forever: He fails to deliver it here with mostly mid-tempo, contemplative tracks that seem incomplete — all found on an album that he has said will be his last major-label release, if not his last full-length set altogether.
"Is that enough? I think it's over, " he proclaims on "Through, " on which he moans about being the only one to blame for his "cheap gilded cage, " and then apologizes to God for his attitude. The weak title track "Patience " represents the middle ground of his thoughts here, veering from human misery to natural beauty: "Is it my imagination, or did God already leave the table? Such destruction, and pure white castles in the sand. "
"Precious Box " is the album's most accomplished track, with its mid-tempo simmer and ricocheting-like chorus, propelled by wind energy from whispery vocals. "Amazing " is, musically and lyrically, a blissful gem of a pop tune. "I never thought that my savior would come, " he sings repeatedly. Is it talking about his life partner, the "American Angel " of a later, lesser track? ("Bless the day you came into my life, I still remember. ") Or is Michael singing about capital G-God? Michael has never talked so much about, or especially gone in search of, God as he does on Patience.
Michael has made many wondrous ballads in his time, aided by a silky-smooth crooning voice — "Father Figure, " for example. But not one of the four ballads included here comes close to measuring up. "My Mother Had a Brother " has to be one of the worst titles for a pop song ever. The song itself is notable, however, for its sweet jazzy electronic flourishes and its historic awareness, recounting the importance of being out and proud in today's world, to live the life that our gay uncles gave up waiting for. "So those of us who have nothing to fear, we've got to make damn sure that it was worth it. " Trouble is, Michael has yet to prove, musically, he's living by that creed.
Maybe you gave up on Queer as Folk several seasons ago, and you've yet to watch The L Word. Or, just as likely, you watch one show over the other. Yet any serious contemporary pop music lover, regardless of sexual orientation or viewing preferences, should strongly consider adding either of the shows' new soundtracks to his or her collection. Both go to great, laudable lengths to expand their core audience's listening preferences. In terms of assembly and range, The L Word surpasses any so-called "soundtrack " I've ever heard — ranging from classic to jazz and cabaret, from upbeat folk to gently bubbling electronic pop. Moreover, the soundtrack includes such worthwhile artists, including Fantcha, Joan Armatrading and Kinnie Starr.
Nearly as impressive is the fourth Queer as Folk soundtrack, and the first that doesn't revolve around a DJ mixing dance tracks. Instead, it introduces us to notable art-rockers and indie-poppers. It's hindered a bit by sloppy assembly, with nearly all of the album's weak tracks weighing down the middle. But Black's calypso-tinted "Wonderful Life " is the perfect album closer, easing us gently out of our Showtime vacation and back into our workaday world.