With its delicate yet powerful staging of Tennessee Williams's sentimental classic, The Glass Menagerie, the Kennedy Center proves that, indeed, the third time's a charm. A Streetcar Named Desire, the first production in the Center's summer-long "Tennessee Williams Explored" series went afoul with a modernist update, leaving audiences feeling more puzzled than pathos. Cat on a Hot Tin Roof struck the right chord, but the play hasn't aged well, its once potent impact dimmed. But in Glass Menagerie all the elements — script, casting, direction — combine perfectly to reveal a heart that still beats with overwhelming longing. It remains one of the great dramas about the American family.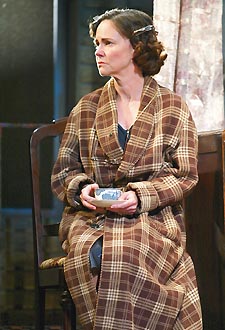 Sally Field takes on the iconic role of Amanda Wingfield, the Southern belle of a mother who arranges for a gentleman caller to meet her crippled and emotionally withdrawn daughter, Laura (Jennifer Dundas). Amanda is often portrayed as overbearing and scheming. Field's Amanda is too caring. She emphasizes the character's vulnerabilities instead of her calculations — she's had disappointments in her life, and the experience has brought her a certain amount of wisdom. Field realizes this, and expresses it eloquently.
The one person Amanda doesn't understand is her son Tom (Jason Butler Harner), an adventurer who dreams of being a writer. Her battles with Tom center around his need to have more out of life than just being a success at the local warehouse where, not surprisingly, he's failing because of the lack of creative challenge.
Field, a film actor not known for stage work, hits the ball so far out of the park she makes the park appear small. She more than proves her worth as one of the greatest actors of our time and her performance as Amanda Wingfield is the exclamation point on that declaration.
Director Gregory Mosher mines the script for comic jewels that are often overlooked. At the same time, he knows how to accentuate the sorrow and loss that each of these characters endures. Mosher pushes Field not only emotionally but physically, revealing the depths Amanda will go to find her daughter a suitor.
Jason Butler Harner's Tom is charming and defiant in this haunted house — it's a break-out role for the actor. Jennifer Dundas digs deep to find a Laura who is at peace in her withdrawn world, yet isn't so far removed as to not feel the tragedy that befalls her when the gentleman caller reveals his story.
The Glass Menagerie
To 8/8
Eisenhower Theatre
$25 to $75
202-467-4600

Corey Brill plays Jim O'Conner, the aforementioned gentleman caller, with an honesty that's often faked by lesser actors. He's entirely believable when he tells Laura that she is pretty — giving Laura a real sense of hope for her future.
Whether intentional or not, the Kennedy Center has saved the best for last. Sally Field's performance advances the interpretation of the hard-bitten Amanda — no minor achievement for a play that has had more productions than almost any other in the past century.