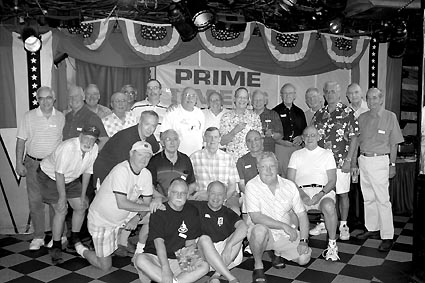 Prime Timers of DC
Mission: A social organization for mature gay and bisexual men and their admirers.
Founded: 1997
Number of Members: Approx. 100
How to Join: Visit the group's web site at www.gaywdc.com/primetimers to fill out an application. Dues are $25 a year or $40 for couples.
Background: Bill Latham, treasurer and founding member of Prime Timers of DC says it wasn't until he was in his early fifties that he came out. "It took me a little while to get started." Still, says Latham, he felt estranged in a community that idolizes youth. "When you get past a certain age, which is 45 or 50, you become invisible. It was discouraging." Not willing to give up, Latham started culling local newspapers to find a group where he could meet men of his own age and noticed an item announcing the formation of The Prime Timers. It was exactly what he was looking for. "I have been able to socialize with and meet some very nice people that I call my friends," he says. "It's a real camaraderie."
Contact: Visit the web site or email primetimers@gaywdc.com.
Next Event: Weekly Wednesday happy hour at 6:30 p.m. in the D.I.K. Bar, 17th Street and R Street NW, above Dupont Italian Kitchen. No reservations needed. Potential members and guests of members are always welcome.