CHA-CHA CHARMSÂ… New York's wildly successful holiday-weekend Alegria party has been since 2001 the province of Abel Aguilera, one of gay clubland's most popular and best DJs. Known simply as Abel, this noted dance music producer, who records as Rosabel with Chicago-based DJ Ralphi Rosario, is also a great compilation mix DJ, a fact borne out by his two-disc Alegria set. We have our qualms with the compilation, beginning with the reason for having two discs in the first place, when only one — the first one — sizzles all the way through. And then there's Abel's use of the overplayed shouting diva shtick that Pepper Mashay wore out years ago. Jeanie Tracy tatters this cheap trick even further. "Throw your hands up in the air," she demands on the blah-blah "Cha-Cha Heels." If you have to tell people to show excitement, isn't the point lost?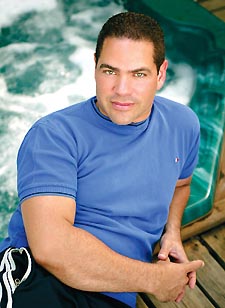 DJ Abel
But in the end, our qualms are pointless: even "Cha-Cha Heels" achieves its purpose to make you move. Those promiscuous, snake-rattle tribal beats will never get old, carrying along anyone who will give in to their polyrhythmic charms. Abel uses creative track-and-field sound effects and takes us farther afield than do many similarly esteemed gay American DJs, incorporating sounds from the Middle East, Greece and Latin America, in addition to the African tribal beats that are the sine quo non of his set. Certainly hardcore clubbers will be enamored by the compilation — Disc 2 is all but given over to them. But those occasional dance dabblers who crave vocal-oriented pop are accommodated repeatedlyÂ…
BJORK MCFERRIN?… By Labor Day, we'll hear the latest from Björk — and it promises to be little like any other release from the beyond-eccentric singer. Rolling Stone reports that Björk's Medulla will be an all-vocal affair. Former Roots beatbox Rahzel and former Faith No More lead singer Mike Patton are two guests who will contribute their voices to flesh out song elements normally handled by musical instruments. "Instruments are so over," Björk told Rolling Stone, in characteristically sweeping fashion. "I think this was probably the most intuitive album I've done. I had to use ingredients that I trusted, like my voice, my muscles, my bones." It's Björk, so she gets the benefit of our doubt. But at face value, doesn't it sound like the second coming of Bobby McFerrin?…
MUM'S ISOLATED ICELANDÂ… The simple fact of Björk's maniacal creativity and eminent quirkiness helped raise consciousness of her green, all-sun-or-none homeland in the Atlantic. It's obviously too much to credit her alone for putting Iceland on the tourist map. Not so with music. Björk, and The Sugarcubes, the cult-favorite experimental-pop band she started with, cleared a path for equally inventive Icelandic electronic-based groups such as Sigur Rós and Gus Gus to find fame internationally. There's something in the water, apparently. Another Icelandic experimental band, múm, has been around since the turn of the millennium, but attention is taking its time to build, just as every track is slow to build on the group's new sophomore album, Summer Make Good.
Múm's three main members and several guest musicians holed themselves up for nearly two months to record Summer in an abandoned lighthouse-keeper's house, bringing along string instruments, percussion and any number of exotic instruments to add organic textures to the group's otherwise electronic music bed. That isolated locale is reflected in the thoroughly theatrical music, where high tide inspires lush instrumentation and crashing melodies, as well as creepy childlike vocals from lead singer Kristín Anna Valtýsdóttir. And low tide? Clearly that's when the majority of the album was written, inspiring creaky, spooky indiscernible noises — and the whirring wind. Because so much of the album is built around silence and near-silence, it's hard to imagine how it will work in a loud nightclub like the Black Cat, where múm will perform next Saturday, July 24. But it's intriguing enough to make it worth checking out, especially to see the crowd's responseÂ…
JULIE ANDREWS RETURNS TO SINGING?… "Julie Andrews returns to singing," a recent Billboard headline read, and it didn't need punctuation to elicit screams of joy. Turns out though, it overstated the case. The former — what a painful word — Hollywood and Broadway musical maven lost control of her crystal-clear, perfect-pitch pipes as a result of a botched 1997 operation to remove benign nodes from her vocal cords. Damn doctors! Since then, Andrews has regained some of her singing ability. But her touted "return to singing" involves minimal singing and accompaniment from two of her costars in The Princess Diaries 2: Royal Engagement. As Andrews told NBC's Today: "I'm sort of sing speaking; I only sing the merest bit of a song. It's a little bit like Rex Harrison did in My Fair Lady. I talk the song through." That's better than nothing from Maria von Trapp. The song, "Your Crowning Glory," will be on the soundtrack, due Aug. 10, or a day before the film's releaseÂ…