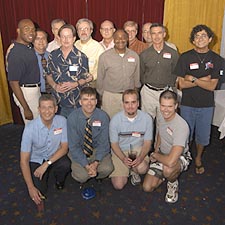 Alexandria Gay and Lesbian Community Association
Mission: AGLCA is a nonprofit, nonpartisan organization that strives to enhance the quality of life for the local GLBT community through social activities, political awareness, and community service.
Founded: 1983
Number of Members: Approximately 150 current members.
How to join: Visit the group's web site at www.aglca.org.
Background: AGLCA president TJ Flavell says the group is about more than "simple geographic delineation." So while Alexandria is the group's base, AGLCA is for all the NoVa GLBT community. "It's a matter of bringing people together, and that's what this club does." And while Virginia may suffer a bad rap because of its state legislature, the people drawn to AGLCA paint a different picture. "The wonderful people who attend our monthly socials are amazing," Flavell says. "We've gotten a tremendous turnout, with all kinds of fascinating people."
Contact: For information on AGLCA e-mail info@aglca.org.
Next event: The AGLCA monthly social will be held Tuesday, Sept. 7 at Stardust Restaurant and Lounge, 608 Montgomery Street, Alexandria, from 6:30 to 8:30 p.m.