American Idol fever seems to have hit its peak in Washington: Last season's finalists appear at the MCI Center this Sunday, Aug. 22. And Simon Fuller and co. have just moved from town, having seen on Wednesday thousands of Washington singers, self-proclaimed or in fact, hoping to be the next Kelly Clarkson, Ruben Stoddard, Fantasia Berrino, or Tamyra Gray.
Tamyra Gray, you say? Didn't she lose in the second season, and not even as the runner-up to Clarkson? Yes and yes, but in today's America you can be a loser and still win — as long as you were seen on TV. And as long as you win over the right people.
The lesson to be learned from today's TV-generated pop scene is this: If you lost the popular vote but won with those in power — Simon Fuller, pure and simple — what is there to stop you? Right here I should pause to say my intent is not to degrade Gray — the Takoma Park-born singer proves herself to be quite the talent on her two-years-in-the-making debut The Dreamer, released on Fuller's 19 Recordings, Ltd. She co-wrote all but one song, and she shows real potential to be the next Brandy (actually no, she's already better than Brandy). Unlike that pre-American Idol youthful R&B singer, Gray is not afraid of picking up the pace, or showing a range of styles, or powering her voice beyond a bland, monotone quality.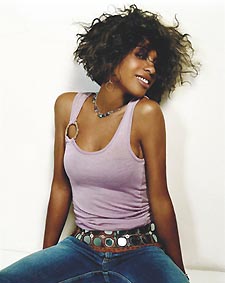 Gray
She often overpowers it, of course, through an unwise, uncontrolled melisma that marred her Idol run and also mars much of The Dreamer. On first single, "Raindrops Will Fall, " Gray seems intent on out-belting Mariah Carey, in reconstituted Carey territory. "Don't Stop (Keep It Coming) " is another unimaginative track, with Gray flinging her vocal weight around into every possible corner. There's nowhere to hide. "Don't Stop" could be her first real hit though, at least on the dance floor, with its disco energy — charged up by swirling strings — and its calls to "get right down and boogie. " Gray really shines when she gets upbeat and gives us old-school soul ("17 " and especially "Good Ol' Days, " the latter of which was co-written by Fuller). And with better, less glossy, less predictable production next time, Gray could shine as the next Whitney Houston, her obvious inspiration.
And yet, our problem will remain: any Gray, Aiken or DeGarmo can lose American Idol and yet go on to launch recording careers in spite of (and in fact because of) the loss. Doesn't that seem out of whack?
At least Idol doesn't have a monopoly on recording contracts. And its chief role seems to remain in promotion. That's how we come upon another newcomer, Cherie, a would-be American Idol, if she weren't French. To succeed, she obviously figured, she should skip right over the French Idol competition and set sail for America. That she has done. But she also figured she couldn't succeed without a touch of Idol fever, and so she just completed a run of July dates opening for Clay Aiken, hoping to enlist his fans as hers.
It's a smart move: Cherie actually sounds very much like Diana DeGarmo with better vocal control and a superior vocal range. And she's got the youth thing down pat. Not only is she just on-the-cusp of turning 20, she also sings songs — "Older Than My Years " — that only a naïve whippersnapper would. And boy, does she ever "believe," employing the expression "I believe " repeatedly on no fewer than three songs.
Whereas Gray draws most of her influence from Whitney, Mariah and Brandy, Cherie seems to believe most in her French-descended sisterhood, Celine Dion. And her self-titled debut is awash in cheesy, melodramatic balladry that Dion helped make all the rage in the late '80s/early '90s, when Cherie first encountered pop music as a toddler. That pop era made a lasting impression: you can hear echoes of that era's good music in "I Believe In You" as well as it the bad in "It's Your Love." You can also hear traces of Belgian power-belter Lara Fabian, the upgraded second-coming of Celine who didn't fare very well a couple years ago.
If Cherie, as Celine 3.0, succeeds where Fabian didn't, it will be in part because of her youth. But also because her label is working every angle to make it happen, prominently placing her all at once in entertainment vehicles that appeal to teenagers, their parents, their older cousins, and even their gay friends. If only they had worked harder to make more contemporary-sounding pop like "Betcha Never. " That track shimmers out of the speakers with exotic appeal like an Arabic belly dancer. If only.
Read more of Doug Rule's reviews at metroweekly.com.