In case you didn't know, there's a great little feminist theater group here in our nation's capital that produces great little works of theater in a great little space downtown. And it's important to know that all of these great little feats add up to something much bigger than the sum of their parts. Venus Theatre's "Bad Girls III: The Redemption" is the area's only feminist summer theatre festival that runs on a minimal budget with minimalist sets and costumes on a mini-stage with many actors. The result is maximum exposure to nine short plays celebrating the infinite power, trials and triumphs of women.
Artistic Director Deborah Lou Randall selected nine playlets after reading through a hundred scripts. Seven of the eight playwrights are living, and Randall no doubt chose Evelyn Glover's vintage piece A Chat with Mrs. Chicky for its strong message in favor of a woman's right to vote. Women have now held that right for the past 84 years — August 26, 1920 marks the day when the Nineteenth Amendment to the United States Constitution became law and women have been voting in every election since. Given the current political climate and the impending November 2nd election, Glover's work now resonates louder than ever.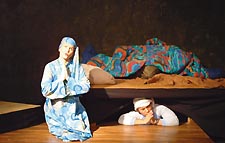 This kind of living history is illuminated in three-dimensional form by a team of seven actors (including two fearless males), three directors, and two designers. As with most summer festivals, the result is a mixed bag of treats: some delicious delights, some daredevil duds. While Venus tackles important women's issues such as breast cancer and post-partum depression, the company serves up a buffet of brief PSAs with sobering statistics and forced, unnatural demonstrations of their efforts. This indicates a lack of trust in the strength of the collective material or the desire to reiterate what has already been examined on stage. Either way, their vital messages are signed, sealed, and delivered, some through clumsy staging, some with lucid clarity.
Mrs. Chicky opens the evening on a high note. Rebecca Herron is a delightful "Mrs. Chique " alongside Louise Andrews as the stuffy, anti-suffragette Mrs. Holbrook. Shirley Serotsky directs the duo with swift pacing and a light sense of comedy. Cherisse Montgomery writes about the daily survival of a victim of breast cancer in her somber Lillian Goes to the Mirror. Although Elizabeth Simmons seems too young for the mature warrior, Montgomery's script stands on its own with powerful dialogue and a lingering message of hope. Between set changes, the cast dispenses crucial information on how to detect abnormalities or changes in the breasts. Their instructions and self-examinations may induce giggles from future audiences, but the solemn realities of this leading cause of death in women are certainly no laughing matter.
Bad Girls III
The Redemption
To 9/12
Venus Theatre
1021 Seventh St. NW
$20
301-470-2406, ext. 4
www.venustheatre.com

Jenny Klion offers a strange, absurd journey in Stake Bite, the adventures of a clown named Fish (Marlon Anthony Russ) who studies stars and his fervent small-town admirer Darcy (Wendy Wilmer). Klion's script engages in lengthy exposition that isn't served well by direction from Toni Rae Brotons, but Russ and Wilmer's quirky interpretations are interesting to watch nonetheless. In Love is Murder, Jae Kramison studies the aftershocks of post-partum depression in a sappy, overacted melodrama directed by Sarah Wiggin.
Easily the most engaging and insightful tale of the evening, Just Sex (Jazz Hands) turns the microscope lens on the macrocosm of lesbian relationships. Linda Suzuki's seething story of "Chick #1 and The Ex " is a bright, brisk look at two women whose casual encounters reach the boiling point. The final and most entertaining piece is a bite-sized sketch penned by Randall. In Injur-Ex, Janey Richards announces in classic television commercial-style a brand new product as the perfect self-defense tool. Richards explains how the latest tampon-as-weapon mechanism is a fashionable, affordable way to protect women from late-night attackers or irritating exes. Linden Tailor, as an obnoxious motivational speaker, demonstrates its uses as the first victim of the piercing Injur-Ex.
"Bad Girls III: The Redemption" brings the feminist experience to life. Its underlying message is one of an optimistic future where all women are proactive and consciously supported by each other, and where action is as natural as reaction. As Mumsie tells her son in J. Montegue's Too Much Latin: "I don't get mad Little Peanut; I get righteous. "