A recent spike in robberies in the Dupont Circle-Logan Circle areas took a deadly turn in the early hours of Monday morning, when an unknown assailant shot and killed Adrien D. Alstad at the 1800 block of R Street NW.
Alstad, 55, and co-worker J.J. Engbert had finished the Sunday night shift at Annie's Paramount Steakhouse, a fixture of the local gay community, and headed home just after 2 a.m. Alstad walked Engbert to her car near the intersection of 18th & R streets NW, Engbert told Metro Weekly. She said that Alstad planned to continue on foot to his home just two blocks further, near the intersection of 20th and R streets.
"I offered him a ride, but he wouldn't take it," Engbert said, adding that Alstad would only accept a ride if the weather was particularly harsh. He had a rule of not smoking in his apartment, and enjoyed his last cigarette of the night during his regular walk home.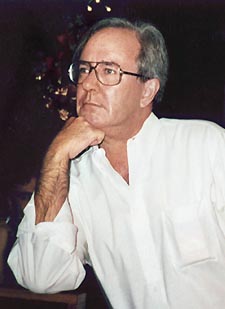 After last seeing Alstad standing on R Street, Engbert learned of what happened next from news and police reports.
At approximately 2:24 a.m., the police were called to the front of 1839 R Street NW, according to the D.C. Metropolitan Police Department. There they found Alstad suffering from a gunshot wound to the upper body. He was pronounced dead at George Washington University Hospital at 3:29 a.m.
By Monday afternoon, people up and down 17th Street near Annie's — a stretch of homes and establishments recognized by some as the epicenter of gay life in D.C. — were gripped by the news of Alstad's murder. Alstad himself was a fixture of this slice of gay D.C., having worked as a waiter at the popular steakhouse since 1987.
Television news van antennas were ubiquitous. Police walked the street, asking questions. Inside Annie's, flowers and balloons lined a wall. Staff hugged one another through occasional tears, stopping after the first televised news report of Alstad's murder to drink a toast in his honor.
By Tuesday morning, the police may have found a lead.
"At about 12:30 this morning, the Metropolitan Police were called to the area of 19th and S streets NW to investigate a report of a robbery," Sgt. Brett A. Parson of the police Gay & Lesbian Liaison Unit told Metro Weekly. "As a result of that investigation, a car chase ensued, which ended up in Southeast Washington. One person was taken into custody, and a second escaped. We're continuing to investigate whether…they had any involvement in the death of Mr. Alstad."
Parson added that although Alstad was gay, there is no indication that his murder was a hate crime.
SEE UPDATES TO THIS ARTICLE:
The police department is offering a reward of up to $25,000 to anyone who provides information that leads to an arrest and conviction in this case. Anyone with information may call the Gay & Lesbian Liaison Unit directly at 202-727-5427.
Meanwhile, the street remains tense.
"I think this will open the eyes of everyone who works on this street," said Anthony Branch, a bartender at JR.'s Bar & Grill, one block south of Annie's. "It will make us continue to look out for each other on the way home."