The Kings of Convenience's sophomore album, Riot on an Empty Street, begins with a telling and referential reference: "I can't stop listening to the sound of two soft voices/blended in perfection/from the reels of this record that I've found. " That early verse comes from "Homesick, " a song that is a dead-ringer for the "Sound of Silence, " right down to its tightly harmonized voices and its sweet and sour guitar chords.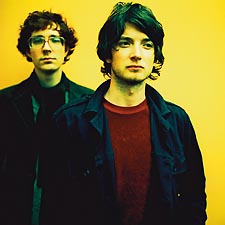 Kings of Convenience
Fortunately, these Kings aren't quite the dead-ringers for Simon & Garfunkel that they first suggest. Once "Homesick " has run its course, Erlend Oye and Eirik Glambek Boe, the soft-spoken Norwegian twosome behind Kings, wisely move on to create an acoustic down- and mid-tempo pop album that invokes the same feeling you get after spending an hour swimming in the summer sun: a relaxed sense of invigoration.
It's true that Simon & Garfunkel remains the Kings' most significant influence — and it's most pronounced on their weakest tracks. But the Kings create a peppier, less-folk informed sound. Especially now, on Riot, where Oye and Boe have added more strings, bass and drums — along with banjo and trumpet — than was featured on their 2000 debut, Quiet Is the New Loud. They also speed up the tempo a tad to fully embrace the slow but not lethargic chill-out electronica sonics. "Misread " is beautifully orchestrated pop based on a bossa nova rhythm that will have you shifting in your seat, drinking a caipirinha. What they don't change is the perfect sound that derives from the blend of their two tender, fragile voices.
"I'm looking forward to everyone saying it's not as good as the first album, " Oye writes in jest in his press notes. He needn't worry about that. The marvelous Riot more than fulfills the potential previously suggested. Oye himself seems to have helped steer the group in a wiser, more dance-oriented direction, given his frequent DJ-ing over the past few years and his phenomenal DJ Kicks compilation released in May. Still almost exclusively acoustic, the album's best tracks simmer with electronica influences — from "I'd Rather Dance With You, " the album's first single, to "Love Is No Big Truth, " which might be the first song featuring banjo-pluckings you'd ever consider breaking down and dancing to.
Summer is a great time to hear from Kings of Convenience, but it's the best time to hear from Phoenix, the Parisian quartet. The music is a bit too casual to appeal during any other season. It's a bit too casual for summer too, of course. Phoenix's philosophy seems to be to copy ideas from many of their contemporaries — most notably Maroon 5, but also Coldplay and Air. Throw in ideas from their clearest role models — no shame in their Frenchified Hall & Oates and REO Speedwagon game — and then mix it all up to make them sound just unique enough to claim something new. Call it smooth pop, the next big thing to hit elevators and doctors' offices everywhere.
You'll swear but fail to prove you've heard before the lilting hip-hop, summer-pop sound of "Run, Run " — perhaps as the soundtrack to a TV commercial? And if there were such a thing as cutting-edge radio these days, you might have heard by now the first single "Everything is Everything, " with its swaying mid-rock sound: not hard-rock, not quite soft-rock. Those are the first two tracks on Phoenix's sophomore album, the instantly gratifying but repeatedly boring Alphabetical. They kick it off in pleasant fashion, but soon enough the album becomes unpleasant, even embarrassing. All the songs sound the same: too uniform in sound to inspire added investigation, and too coolly created in an A/C controlled environment to generate heat.